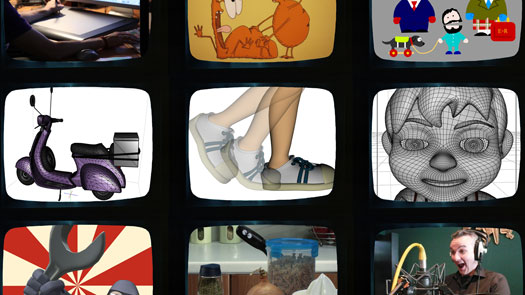 Animation
3 years
(
full-time
)
UCAS D367
Taught by professional animators, this course will provide you with a solid understanding of animation production. Recognised as one of the largest media hubs in Europe, Manchester is a vibrant city with a wealth of opportunities to connect with the animation sector. Through the course you will learn cutting-edge computer animation and the underlying principles of motion, performance and expression. The course focuses on the art, motion and storytelling fundamentals that are at the heart of all animation, irrespective of technique.
Special Features
From the very start you will be working with professional animators and studios through live briefs and projects.
The course is based within the Department of Media at Manchester School of Art, and the art school ethos will push you to innovate and become a highly creative professional.
You will have the opportunity to take part in Unit X, an innovative unit offered to students across Manchester School of Art that encourages interdisciplinary study and collaboration on an external-facing project.
Professional animation production is a big team effort (just look at the credits at the end of a movie), so as well as learning the specialised individual skills required for animation, you will work closely with your classmates and students from other courses, developing important teamwork skills demanded by employers. The course is designed to allow you to specialise, if you so wish, in one specialist area of the animation process allowing you to collaborate with others refining your individual artistry.
Course Content
In the first year of the course you will learn core animation principles, study the art of storyboarding and cinematography, develop your skills in character design and learn the techniques of animation production using industry standard software in 3D, 2D and stop motion animation. In the second and third year you will develop your own ideas and learn the entire production process from pitching your ideas, working with a production team to develop and produce the animation, overseeing the editing and sound design to the final presentation of the finished film.
Year 1
The first year is a general foundation to the craft, skills and conceptual thinking required for the art of animation. You will learn the key principles and techniques of animation alongside the software and tools required for creation.
Unit X
At Level 4, this unit encourages some collaborative, interdisciplinary practice and shared experience. There are lectures and talks from key research staff, students and external experts. Teaching will be in the form of tutorial groups, weekly meetings and presentations. The set projects will vary from year to year and are designed to be responsive to current creative opportunities.
Animation Principles
In this unit you will be introduced to the fundamental principles of animation, not just how to make things move, but how to make inanimate objects come to life. Through a series of tasks using a variety of animation techniques (2D, 3D computer animation and Stop Motion), you will explore and practice the mechanics of motion such as weight, timing, overlap and anticipation, leading up to basic exercises in expression and performance. The unit also explores some experimental approaches to animation and by the end of unit you will have the basic skills required to produce animation in a number of techniques.
Visual Narrative
This unit focuses on visual narrative, how to tell a story through the tools available to an animator; exploring principles of cinematography, film language, storyboards and animatics, interpreting scripts and adapting existing stories for the screen. You will also be introduced to the challenges of creating a believable world in which to construct narratives and develop an animated production utilising conceptual, character and environment design methods. Your learning will be supported by a number of technical and software workshops as well as sessions in life drawing.
Contextualising Practice with Language 1
You are allocated to one of five pathways addressing programme-based clusters of cognate practice areas. Lectures, seminars, guest speakers, visits will address the historical, critical and cultural contexts of art and design practice. The 15 credit option is taken when you opt to do a 15 credit Uniwide languages unit as well (mmu.ac.uk/uniwide).
Contextualising Practice 1
30 credit unit. You are allocated to one of five pathways addressing programme-based clusters of cognate practice areas. Lectures, seminars, guest speakers, visits will address the historical, critical and cultural contexts of art and design practice.
Year 2
Building on from your learning from Year 1, you will begin to work more collaboratively in the second year, honing your individual talents and interests. More advanced production procedures will be examined and practiced.
Unit X
This unit explores collaborative and interdisciplinary art and design practice. You will have the opportunity to engage in a range of external-facing learning opportunities which will encourage collaborative, interdisciplinary practice and shared experience; this may take the form of spending time outside of the University and working within the creative community and the public domain.
Animation Process and Practice
Strong performance and acting is what makes the audience believe that an animated character is alive. In this unit you will complete a series of assignments that explore character, thinking, decision-making and emotion through pantomime and facial animation. Lectures cover the analysis of posture, body language, gestures, timing, eye movement, facial animation and lip sync. You will also attend life drawing sessions to further study anatomy for animation, and an acting workshop. By the end of the unit, you will produce a short character animation sequence, with weekly guidance and supervision, from concept, design, layout and animation through to final render.
Post Production for Animation
By definition, animation is a complex structure of digitally manipulated images projected in quick succession to give the illusion of movement, and together with the integration of sound it provides a full immersive audience experience. In this unit you will explore, learn and create work utilising visual effects, sound design and compositing (the layering of moving images) and discover how technology has an impact on the post production processes in animation. You will also discover and learn how to use the ever diversifying range of digital platforms where audiences can watch and engage with animation.
Contextualising Practice 2
Delivery of critical, historical and professional issues to enhance your development within practice-based clusters. Delivery to clusters of cognate practice areas. Content consists of selected thematic options in critical and historical areas plus cluster-wide professional and employability issues, facilitating and enhancing the development of both studio-based work and identity as a practitioner.
Contextualising Practice with Language 2
Delivery of critical and historical issues to enhance the student's development within practice-based clusters. Content consists of selected thematic options in critical and historical areas facilitating and enhancing the development of both studio-based work and identity as a practitioner. Modes of delivery include lectures, seminars, tutorials, guest speakers, visits and placements.
Year 3
In the third year, you will have the opportunity to be a key part of a major animation, which will showcase your individual talents as part of a significant production, which will be developed and pitched to industry professionals. The finished piece will be shown at animation festivals as well as our graduation showcase.
Animation Development
In this unit you will develop an idea or concept for a major animated project which will be pitched to a panel of industry professionals. If the pitch is successful, you will work on developing that idea to a full pre-production package including design, research and animation tests. This unit provides the opportunity for you to research and develop an idea or concept for a professional, substantial, industry standard animated work. You will be encouraged to work collaboratively to maximise your own individual talents, and is designed to reflect current industry practice in animation production.
Major Animation
This major double unit allows you to consolidate the skills and knowledge accumulated throughout the course to produce a major animation. You will work on a project as a key member of the production team, whether that is as an art director, director, lead animator, technical director, modeller, or any one of the many roles that makes up an animation team and by the end of the unit, you will have a major credit on at least one full production for your final portfolio. The completed productions will be screened or exhibited as part of the summer show, and as part of an online channel in order to promote you to potential employers. In this unit we will also help you maximise your employment potential by giving you the tools needed to showcase your talents through our excellent professional networks and your own website.
Contextualising Practice with a Language 3
Programme of research and critical analysis of cultural and professional issues related to a your individual practice interests. A negotiated project focused around an individually defined area appropriate to your aims and ambitions.
Contextualising Practice 3
Programme of research and critical analysis of cultural and professional issues related to a student's individual practice interests.
Assessment Weightings & Contact Hours
10 credits equates to 100 hours of study, which is a combination of lectures, seminars and practical sessions, and independent study. A three year degree qualification typically comprises 360 credits (120 credits per year). The exact composition of your study time and assessments for the course will vary according to your option choices and style of learning, but it could be—
Study
Year 1

30% lectures, seminars or similar; 70% independent study

Year 2

30% lectures, seminars or similar; 70% independent study

Year 3

15% lectures, seminars or similar; 85% independent study
Assessment
You can find further details about the curriculum for the current academic year in the Programme Specification Document

Resources
Students will be taught to use industry standard software such as Maya, Nuke, ToonBoom Harmony, Dragonframe and the Adobe suite of creative software to give them all the tools they require to develop their own skills and talents in whatever field of animation practice they are interested in. Other practical workshops in (for example) digital painting, editing, cameras, lighting, sound design, foley recording, set building, puppet making, will all be offered to support your progression and skillset. The Art School is well resourced in computer facilities, studios and workshops to provide students with a creative environment in which to work in.
Industry Links
Manchester's worldwide reputation for animation is cemented by the likes of Cosgrove Hall, Mackinnon and Saunders, Studio Liddell and Factory Transmedia, many of whom employ and were even established by Manchester School of Art graduates. In addition, the recent move of the BBC and ITV children's departments to MediaCityUK has boosted the city's demand for animators. The course has an active steering group made up of key figures from the industry to ensure what we teach students is relevant and constantly evolving to keep up with technological trends.
Student Work
Visit our online Degree Show gallery to see examples of work by final year Animation students.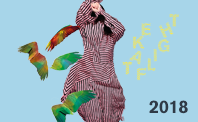 Degree Show Spotlight Series
First and second years bring BBC Radio 5 Live archival recordings to life
Graduate Opportunities
The move of the BBC and ITV children's departments to MediaCityUK has enhanced an already strong children's media ecosystem. Skilled talent in animation is necessary not only for the high-profile children's animation programming, but also for the myriad of agencies that produce high-end animated content for gaming, marketing/advertising, e-learning, publishing, visual effects, augmented reality, architectural visualisation, app development, prototyping, etc. There is an ever-growing demand in Manchester for this type of talent, which makes Manchester Met's focus on future animation so timely and exciting. Graduates will be able to use their skills to work all over the world in what is a truly global industry. Animation graduates from the UK are often invited to work in Canada and the US, South America, Asia (specifically Singapore, Japan, South Korea, Malaysia, and Hong Kong), Australia, New Zealand, Germany, Ireland, France, Scandinavia and increasingly China.
Making an Application
How to Apply
Apply through UCAS.
If you meet our criteria we will invite you to an Interview and ask you to show us a Portfolio of your work.
You will be notified of our decision through UCAS.
Entry Requirements
| | |
| --- | --- |
| UCAS Tariff Points/Grades Required | 112 at A2 or equivalent (which can include Foundation Diploma in Art & Design). A Level General Studies is not accepted. |
| Specific GCSE Requirements | GCSE English Language at grade C or grade 4. Equivalent qualifications (eg. Functional Skills) may be considered |
| Non Tariffed Qualifications | Pass Access to HE Diploma in a relevant subject with a minimum 112 UCAS Tariff Points |
| International Baccalaureate | 26 Points |
International Students
A minimum IELTS score of 6.0. with no element below 5.5 is required.
Check our MMU International site for further information if you are applying with non-UK qualifications.
Frequently Asked Questions
What support will I get from my tutors?
As a practice based studio course you will be given practical exercises that will be closely supervised by your tutors. You will also be supported through regular tutorials, seminars and workshops.
Do you have professionals/visitors giving presentations?
Yes. We have excellent contacts in the industry and we will be having many visiting professionals, who will give talks and workshops and also run extended live briefs.
Is a compulsory placement part of the programme?
There is no compulsory work placement, but we anticipate that most students will engage in at least one work experience during the course, and we will support all students to seek additional placements and internships. We also run an industry mentor scheme in the third year.
Are there any trips part of the course?
As well as trips to local studios, companies and events, we will also offer students the opportunity to visit animation festivals such as Annecy Animation Festival in France and FMX in Germany. These international trips will be optional and will be an additional cost.
Are there any additional payments apart from the fees?
We do not make any additional studio charges.
What hardware / software do students use?
We use industry standard animation software such as Maya, Nuke, Toonboom Harmony, Dragonframe, After Effects, Flash, Photoshop etc. We currently run most of the software on Macs.
Competitions
We encourage students to enter national and international animation competitions, and will also enter student work into the Royal Television Society Student Awards.
Additional Costs
Specialist Costs
£600* plus optional £1,600* — Students are recommended to purchase a laptop or desktop PC in their first year capable of producing creative digital work, together with specialist software. However there are PCs in campus and students can loan laptops. Students are also advised to purchase a digital storage device (at least 1TB), a Wacom digital tablet and a pair of professional headphones (although the Wacoms and headphones are available for free loan on campus). In Year 2 and Year 3 students may be required to purchase specialist software licences.
Trips and Placement Costs
£300* plus optional £900* — There are two study trips per year. One will be local (Manchester) and costs will be minimal or in some cases, free of charge. The second optional trip will be national or International, but will run alongside alternate activities for those students who decide not to attend.
Professional Costs
There are no additional professional membership fees required for full qualification.
Other Costs
Optional £150* — Final year students may wish to invest in a professional website hosting service in order to promote their work.
* All amounts shown are estimates.