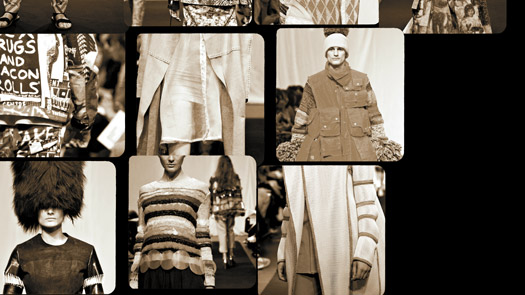 Fashion
3 years
(
full-time
)
UCAS W230
This award-winning course, taught in the Manchester School of Art, focuses on contemporary fashion design (womenswear and menswear) and encourages students to be innovative and creative while developing an understanding of the needs of the fashion industry. You will be taught how to develop concepts and ideas through in-depth research processes and experimentation, learning how to design and make original and innovative fashion outcomes and present fashion concepts through established and new media.
Each year you will undertake contextual and professional studies, with an option to study a language. The School of Art provides a vibrant community in which collaboration with students and staff from other creative disciplines is encouraged particularly through Unit X. The course has strong links with industry, offering opportunity for external showcasing of work and participation in competitions, and national and international industry projects.
Alumni include Aitor Throup, Matthew Miller and Agape Mdumulla (Agi & Sam) alongside graduates taking design positions in major fashion brands including Abercrombie & Fitch, Givenchy, DKNY, Top Man, Louis Vuitton, All Saints and Paul Smith.
This course is accredited by Creative Skillset. Creative Skillset empowers the Creative Industries to develop skills and talent.
Graduate Success
2017 graduate Stefan Efobi won the David Band Textiles Award at Graduate Fashion Week 2017 in London.
In 2016 Cavan McPhearson was awarded a British Fashion Council scholarship of £5000. She has also won a competition with Levi's where she will undertake a paid internship in San Francisco upon graduating.
Hannah Wallace scooped the Gold Award at the 2015 Graduate Fashion Week, plus the Creative Catwalk Award and the Best of GFW. In addition, Hannah Sykes received the Boohoo.com Fashion Innovation Award.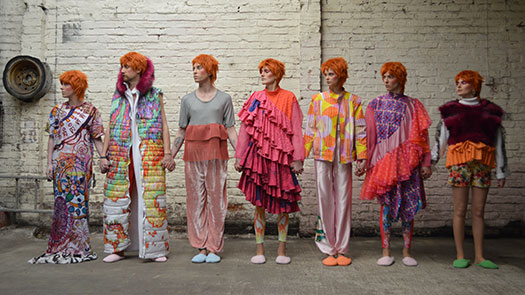 Course Content
This course has an excellent reputation for producing fashion graduates who are employed for their creativity, originality, versatility, and professional skills. This is achieved by the development of individual creative abilities and you will be encouraged to develop your own personal design philosophy and identity.
You will gain an understanding of the fashion design process and how it operates within the fashion industry. Your market awareness will be developed further as you will have the opportunity to work on industry live projects and collaborate with students from Textiles in Practice.
The course very much focuses on research, the development of ideas, and design and garment construction methodology. Individuality and creativity are at the core of the briefs set, and you will learn how to develop and challenge concepts and ideas, which you will apply to your design work. Innovation and originality are encouraged.
Practical skills are taught throughout the course in tutorials and workshops, using traditional and state-of-the-art equipment.
Year 1
In the first year, you will be introduced to the context of fashion and the role of the fashion designer. You will learn to develop innovative and original concepts and improve your design skills, learning how to cut patterns and how to make and style outfits. Workshops and tutorials take place throughout the year to develop your practical skills. You will also study the historical and cultural context for fashion.
Unit X
At Level 4, this unit encourages some collaborative, interdisciplinary practice and shared experience. There are lectures and talks from key research staff, students and external experts. Teaching will be in the form of tutorial groups, weekly meetings and presentations. The set projects will vary from year to year and are designed to be responsive to current creative opportunities.
Realisation
The unit introduces the fundamentals of the design and make process for fashion and also provides an opportunity to exhibit, disseminate and reflect on the outcomes. A series of textile and 3D workshops support an experimental design and make project. The unit will focus on learning through making and explore a range of approaches to generating and presenting fashion. Students participate in a live event, experiencing the broader issues relating to the production and presentation of fashion through dissemination and articulation of their design ideas.
Research and Design
The unit contains a series of projects that provide you with an initial insight into fashion research methodology. It is a practical unit that introduces different fashion design processes and methods. As part of this unit you will be expected to undertake and develop relevant research strategies appropriate to contemporary fashion design practice, generating ideas and concepts in response to set briefs and translating research into two and three-dimensional outcomes.
Contextualising Practice with Language 1
You are allocated to one of five pathways addressing programme-based clusters of cognate practice areas. Lectures, seminars, guest speakers, visits will address the historical, critical and cultural contexts of art and design practice. The 15 credit option is taken when you opt to do a 15 credit Uniwide languages unit as well (mmu.ac.uk/uniwide).
Contextualising Practice 1
30 credit unit. You are allocated to one of five pathways addressing programme-based clusters of cognate practice areas. Lectures, seminars, guest speakers, visits will address the historical, critical and cultural contexts of art and design practice.
Year 2
During the second year you will further expand your design skills, developing a more professional approach to practice but also experimenting, testing out ideas and developing your own interests and specialisms such as menswear, knit or print. You will also start to tailor your outcomes to your own individual practice through both live industry projects and self-written briefs. You will also have the opportunity to undertake work experience during the second year.
Unit X
This unit explores collaborative and interdisciplinary art and design practice. You will have the opportunity to engage in a range of external-facing learning opportunities which will encourage collaborative, interdisciplinary practice and shared experience; this may take the form of spending time outside of the University and working within the creative community and the public domain.
Design
This unit focuses on research approaches and processes for developing a professional fashion design practice. Experimentation and innovation will be encouraged within a professional context.
Directions
This self-directed unit facilitates the development and dissemination of a personal design philosophy. You will explore interests and themes, which will help to establish concepts, contexts and methods for their maturing design practice.
Contextualising Practice 2
Delivery of critical, historical and professional issues to enhance your development within practice-based clusters. Delivery to clusters of cognate practice areas. Content consists of selected thematic options in critical and historical areas plus cluster-wide professional and employability issues, facilitating and enhancing the development of both studio-based work and identity as a practitioner.
Contextualising Practice with Language 2
Delivery of critical and historical issues to enhance the student's development within practice-based clusters. Content consists of selected thematic options in critical and historical areas facilitating and enhancing the development of both studio-based work and identity as a practitioner. Modes of delivery include lectures, seminars, tutorials, guest speakers, visits and placements.
Year 3
The final year is self-directed, students develop their studies in line with their own design philosophy and career expectations. Through extensive original research students establish their own design practice and in response produce 2 dimensional, 3 dimensional and digital fashion outcomes alongside related reflective and critical writing.
Unit X
On the third year Unit X, there is a student authored final project leading to a showcase of finished work. The unit includes a brief generated by the student, which leads to the presentation of a significant body of final work. Collaborative and interdisciplinary work can be incorporated into the project in relation to the professional context and ambition of the student.
Practice
You will distill through practice your personal design direction, context, research methods and processes and develop and produce individual fashion outcomes.
Contextualising Practice with a Language 3
Programme of research and critical analysis of cultural and professional issues related to a your individual practice interests. A negotiated project focused around an individually defined area appropriate to your aims and ambitions.
Contextualising Practice 3
Programme of research and critical analysis of cultural and professional issues related to a student's individual practice interests.
Assessment Methods
Continuous formative and summative assessment with feedback and discussion on completion of all units. The programme ends with a School of Art exhibition.
Assessment Weightings & Contact Hours
10 credits equates to 100 hours of study, which is a combination of lectures, seminars and practical sessions, and independent study. A three year degree qualification typically comprises 360 credits (120 credits per year). The exact composition of your study time and assessments for the course will vary according to your option choices and style of learning, but it could be—
Study
Year 1

25% lectures, seminars or similar; 75% independent study

Year 2

25% lectures, seminars or similar; 75% independent study

Year 3

25% lectures, seminars or similar; 75% independent study
Assessment
Year 1

100% coursework

Year 2

100% coursework

Year 3

100% coursework
You can find further details about the curriculum for the current academic year in the Programme Specification Document

Student Work
Graduates
Graduates of this course have diverse careers in fashion with some working freelance or starting their own companies. Most go on to work as designers for companies such as River Island, Gieves & Hawkes, Roland Mouret, Dolce & Gabbana, Dorothy Perkins, Top Shop, Donna Karan, Abercrombie and Fitch, Reebok and Rodier Paris.
Making an Application
How to Apply
Apply through UCAS.
We will ask you to provide a Digital Portfolio to support your application.
If you meet our criteria we will invite you to an Interview and ask you to show us a Portfolio of your work.
You will be notified of our decision through UCAS.
Entry Requirements
UCAS Tariff Points/Grades Required

112 at A2 or equivalent (which can include Foundation Diploma in Art & Design). A Level General Studies is not accepted.

Learn more about MMU's Foundation Diploma in Art and Design.

Specific GCSE Requirements

GCSE English Language at grade C or grade 4. Equivalent qualifications (eg. Functional Skills) may be considered

Non Tariffed Qualifications

Pass Access to HE Diploma in a relevant subject with a minimum 112 UCAS Tariff Points

International Baccalaureate
26 Points
International Students
A minimum IELTS score of 6.0 with no element below 5.5 is required.
Check our MMU International site for further information if you are applying with non-UK qualifications.
Additional Costs
Specialist Costs
£1,200* plus optional £4,600* — As students on a fashion design programme, students will purchase art materials, sketchbooks, paper, calico, fabric and other materials. Students will also pay for printing. The amount spent on these materials is a reflection of the students work (themes, style) and the decisions by the student when sleeting elements such as fabric. The estimated minimal costs are the approximate minimal spend on these materials, optional costs reflect how students can spend more on practical projects (in addition to core). There is some outlay at the beginning of the programme for pattern-cutting equipment and books. Students often also choose to purchase a laptop, often in first year although they are also able to borrow one from the library or use the Applemacs and PCs located in the University. In third year students produce a final collection rather than just garments or outfits.
Trips and Placement Costs
Optional £4,000* — Students have the option of a trip to Japan in their first and second year. Students also have the opportunity of collaborations with international educational institutions at Levels 4 and 5. There is also the option of placement at Level 5 where on occasion placements are unpaid, leading to the student covering their accommodation, travel and other expenses without income from the employer. As an alternative to the placement, students are able to opt for an alternative brief at Levels 4 and 5 (group work / live briefs).
Professional Costs
There are no additional professional membership fees required for full qualification.
* All amounts shown are estimates.