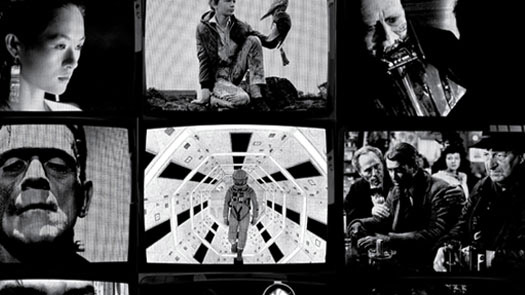 Film & Media Studies
BA
(
Hons
)
Film and Media Studies
3 years
(
full-time
)
UCAS VW36
This course, based at Manchester School of Art, aims to challenge and engage you through a combination of intellectual and creative tasks, working with film, television, graphics, animation and comics. You can incorporate a practical element into your studies, such as photography, scriptwriting, journalism, filmmaking and advertising whilst specialising in specific theoretical areas, considering social and historical contexts of film and media. The theory options also have the choice of a creative assignment. This integrated style of study and work experience enables you to develop an understanding of your preferred career, and gain fresh perspectives on knowledge and ideas, so you may graduate as a skillful, critical thinker and as someone who is fluent in their chosen creative field. There are also possible study visits to the European Festival and Erasmus+ programme study abroad opportunities.
Special Features
Provides the opportunity to get creative alongside learning about media context and the history of film.
A European dimension: students have previously undertaken study visits to the Berlin Film Festival and participated in the Erasmus exchange programme with the National University of Ireland, Galway.
An ideal location with links to the professional media bodies in the North West, including Cornerhouse, Grimmfest, BBC Manchester, The Printworks Odeon and Granada Studios.
Course Content
Year 1
In Year 1 you will be introduced to historical, theoretical, and practical concepts in screen-based media forms, including film, television, and broadcast media. Units studied include introductions to film, media, creative practice and thinking creatively within Manchester.
Film: History and Theory
This unit will demonstrate the importance of understanding key movements and paradigms in the history of cinema and specific national film industries and cultures. The unit discusses forms, styles and technologies (for example, the coming of sound, and the impact of new media technologies on film) and the historical and theoretical contexts of cinema. It looks at both global and local industry examples, for instance British, European, American, Asian industries and their different products. The unit examines critical reviews and historical and theoretical approaches to the film industry, and teaches students ways of articulating their own and others' responses to film.
Manchester
The Manchester unit runs for the first 10 weeks of your first year and serves as an introduction to the programme, familiarising you with the university resources, opportunities and resources in the city and working in groups. The unit explores the importance of the local creative industries for informing film and media content. By using Manchester's cultural, media, and film history and contemporary environments as the example for the unit's core taught study skills. The unit is taught by a mixture of site-specific and industry location materials with you being taught how to use site specific institutions and events as a learning resource.
Unit X
This unit encourages collaborative, interdisciplinary practice and shared experience. There are lectures and talks from key research staff, students and external experts, tutorial group meetings, and presentations. The set projects will vary from year to year and will designed to be responsive to creative opportunities. The course encourages students to respond to contemporary media and as such, it is a live unit in which we discuss films, television, comics, games and the news relating to the media in any specific week.
Introduction to Media
An introduction to media studies/theory, with a focus on providing tools for thinking critically and analytically about media topics.
Introduction to Media with Language
An introduction to media studies/theory, with a focus on providing tools for thinking critically and analytically about media topics.
Year 2
In Year 2 you will study further methods and research techniques and professional business practice for creative and theoretical activities within film and media. You will also undertake options from a range of areas based on staff research specialisms; including gender in film and media, documentary cinema, television studies, mythology and media, genre fields of comedy, horror and science fiction, Hollywood and World cinemas, British cinema, graphic novels and animation, youth and consumer cultures and the practice fields of photography, journalism, scriptwriting, filmmaking and advertising.
Optional Units
Film and Media Studies Industry
This unit introduces you to media and broadcast institutions and practices. It requires you to engage directly with industry, exploring professional working methodologies through project and work-based learning. You will work in groups on an industry informed brief. Each group must evaluate their chosen brief and, supported by a series of workshops, develop the basic skills needed to meet the requirements of the brief and reflect some of the working roles of the industry.
Advertising and Consumption
Contemporary consumer cultures are investigated via their development within promotional and material activity. Topics covered include consumer identities and the social and ritual roles of consumption, together with the ethical questions these provoke. The marketing mix that occurs within integrated promotion is identified and studied through key examples, with attention paid to the roles of creativity, consumer profiling and strategic planning. In this context you will work with practice to make a particular study of persuasion and motivation within advertisements, as these function within an online and a global context.
Digital Media and Culture
This unit covers a range of digital media texts, technologies and practices, exploring and critically contextualising theoretical approaches to new media.
Documentary
This unit offers a critical analysis of the history and practice of documentary activity within film and photography.  Key documentary movements are considered here, with a view to appreciating their historical and cultural importance and also to tracing the integration of the documentary form into social commentary with its acceptance as mainstream media. 
European Cinema
This unit examines European national cinemas from 1945, looking at how the past is re-interpreted by the successive generations of film makers.  It will consider Italian, Spanish and Polish national cinemas amongst other national schools, looking at how the past is re-interpreted by the successive generations of film makers.
Fantasy
This unit examines the ways that fantasy narratives in the mass media reflect and subvert the concerns and desires of societies that produce them. It also examines the critical frameworks that can be used to analyse fantasy texts.
Film: Process of Production
The unit studies a range of practices in film production, and the processes of the conceptualization, production and distribution of film. You will explore a number of film production methods and theoretical concepts of film and representations of film history to develop ideas of practice and the construction of film narrative, both in terms of dramatic story construction and narrative composition. You will use a range of equipment to understand filmmaking techniques such as sound recording, editing, lighting, directing and producing. The unit uses contemporary ideas of film production and discusses the range of distribution methods to reflect changes in the industry and the role of the practitioner.
FMS Theory
This unit introduces you to core methodologies, theories and historical positions for media, cultural and film studies necessary to undertake your creative and theoretical dissertations in year three. The unit examines the relationships between screen media theory and the screen media practices and the instances of creativity these convergences have and can produce. You are given key methodological and conceptual tools with which to navigate contemporary media ecologies that have developed from 20th Century cinematic theoretical and material practices.
FMS Theory with Language
This unit is divided equally between an introduction to the critical and analytical tools you will need to undertake your creative and theoretical dissertations in year three and learning a language through the languages department.
Gender
This subject will explore the concepts, practices and theories of gender and sex in commercial and alternative film, television and media formats.  The subject will enable students to develop frameworks for the study of interactions between the aesthetic and historical demarcations of sex and gender; those freely practised and those subject to censorship.
Photography: Images, Narratives, Culture and Capture
The unit offers a critical analysis and contextual understanding of the practices of photography. You develop photographic skills in light of historical and contemporary influences in the photographic field.
Scriptwriting
The unit explores scriptwriting practice for film and broadcast media production. The unit explores techniques, practices and theories of narrative that underpin the creative writing process.
Television
This unit examines the histories and theories of television and places the format within contemporary media.  It uses case-studies from the United Kingdom, the United States, Australia, Asia, European Television and also from public service broadcasting networks.
Unit X
This unit explores collaborative and interdisciplinary art and design practice. You will have the opportunity to engage in a range of external-facing learning opportunities which will encourage collaborative, interdisciplinary practice and shared experience; this may take the form of spending time outside of the university and working within the creative community and the public domain.
Year 3
In Year 3 you work on the processes of film and media through your own self-chosen, year length research project. This will result in either a 10,000 word dissertation or a practical work project such as a script, or film/media production piece. You will also continue to tailor the degree to your own preferences through your choice of a range of theoretical and practice optional units.
Optional Units
Dissertation / Final Project
You will produce a research project comprising of a 10,000 word written dissertation or a practice-based project with a supporting piece of reflective writing comprising of 5,000 words. The work is the culmination of knowledge and skills gained over the three-year degree. Individual supervision is provided by one or more suitable members of the department as determined by the Year 3 tutor and Programme Leader. Research guidance is also provided through a series of lectures and seminars on research methods and concepts, contexualising theory, information management, academic writing skills and technical skills as appropriate.
Aesthetics of Trash
The unit will address the nature of contemporary cultural hierarchies. Three areas that have been traditionally regarded as 'low culture' (animation, comics and the exploitation film) will be investigated with reference to a range of theories.
British Cinema
The unit explores the British film industry from the 1930s to the present day, encompassing important paradigms and film makers such as Ealing Studios, and looks at changing ideas of British National Identity as seen over the relevant time period
Comedy
This unit examines the way in which comedy is constructed and understood through various media including comics, cartoons, animation, radio comedy, stand-up, TV, film and the internet.
Evaluating Journalism
The unit studies a range of practices in film production, and the processes of the conceptualization, production and distribution of film. You explore a number of film production methods and theoretical concepts of film and representations of film history to develop ideas of practice and the construction of film narrative, both in terms of dramatic story construction and narrative composition.
Horror
This unit will examine the horror film considering earlier material for its emphasis on the monster and moving to post-1960 cinema for its emphasis upon human monsters and the psychology of horror.   It will examine the construction of monstrosity through mythic, psychological and ideological frameworks and will also explore the production and reception of horror texts. 
Science Fiction
The unit explores philosophical issues relating to technology, human identities, time and realities in science fiction media texts.
Stardom and Celebrity
The unit will examines the role of the star system and generic identity in commercial film production and the rise of 'celebrity culture'.
Unit X
On the third year Unit X, there is a student authored final project leading to a showcase of finished work. The unit includes a brief generated by the student, which leads to the presentation of a significant body of final work. Collaborative and interdisciplinary work can be incorporated into the project in relation to the professional context and ambition of the student.
World Cinemas
This unit will examine the phenomena of global circulation within cinema, exploring the historical and theoretical frameworks developed in relation to this field.  It will consider colonial discourses and third world cinemas looking amongst others at examples from Japan, Hong Kong, Korea, China, Thailand, India, Africa and South America.
World Cinemas with Language
This unit explores film and other screen-based media as objects and commodities of global circulation that produce meanings that are both nationally specific and transglobal in character. You also undertake language study with Uniwide.
Youth: Cultures and Subcultures
'Youth: Cultures and Subcultures' deals with subcultural production, style and music and how they express communal identities. Topics may include: Mods and rockers; Goths; Online identities; and extreme sports.
Placements
There is an assessed work experience report as part of Year 2 which may involve work with television companies, advertising agencies or other media. Second year students are also able to undertake a half year placement at the National University of Ireland, Galway on the Erasmus Exchange system.
Assessment Methods
Group work, projects, essays and a dissertation in Year 3.
Assessment Weightings & Contact Hours
10 credits equates to 100 hours of study, which is a combination of lectures, seminars and practical sessions, and independent study. A three year degree qualification typically comprises 360 credits (120 credits per year). The exact composition of your study time and assessments for the course will vary according to your option choices and style of learning, but it could be—
Study
Year 1

20% lectures, seminars or similar; 80% independent study

Year 2

15% lectures, seminars or similar; 85% independent study

Year 3

25% lectures, seminars or similar; 75% independent study
Assessment
You can find further details about the curriculum in the Programme Specification Document

Video made by Film & Media Studies students to promote the end of year show.
Graduates
Graduates of this course have gone on to further research film & media and work in programme development for television and radio, film education, teaching and journalism.
Making an Application
How to Apply
Apply through UCAS.
You will be notified of our decision through UCAS.
Entry Requirements
| | |
| --- | --- |
| UCAS Tariff Points/Grades Required | Minimum 104-112 at A2 or equivalent (such as BTEC National Extended Diploma DMM at Level 3 or Advanced Diploma). If applying using Foundation Diploma in Art and Design a minimum of a Merit is required depending on other Level 3 qualifications. A Level General Studies is not accepted. |
| Specific GCSE Requirements | GCSE English Language at grade C or grade 4. Equivalent qualifications (eg. Functional Skills) may be considered |
| Non Tariffed Qualifications | 106-112 UCAS Tariff Points from Access to HE Diploma in a relevant subject with at least 45 credits at Level 3 |
| International Baccalaureate | 26 Points |
International Students
A minimum IELTS score of 6.0 with no element below 5.5 is required.
Check our MMU International site for further information if you are applying with non-UK qualifications.
Tuition Fees
2017 Entry
UK, EU and Channel Island students
UK, EU and Channel Island students: Full-time fee: £9,250 per year. This tuition fee is agreed subject to UK government approval, and may increase each academic year in line with inflation or UK government policy.
Non-EU international students
Non-EU international students: Full-time fee: £14,100 per year. Tuition fees will remain the same for each year of your course providing you complete it in the normal timeframe (no repeat years or breaks in study).
Additional Information
A degree typically comprises 360 credits, a DipHE 240 credits, a CertHE 120 credits, and an integrated Masters 480 credits.
See Money Matters for further information and advice.
Additional Costs
Specialist Costs
Optional £600* — All of the books required for the course are available from the library. The University also has PC labs and a laptop loan service. However, many students choose to buy some of the core textbooks for the course and/or a laptop. Students may also need to print their assignments and other documents. Campus printing costs start from 5p per page. Estimated costs are £300 for a laptop up to £100 each year for books and printing. Total optional cost: £600
* All amounts shown are estimates.