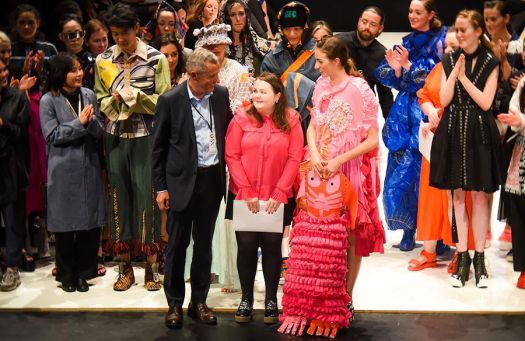 Fashion Alumna wins Emerging Designer Award in New Zealand
9 April 2019
Rebecca Carrington's designs were praised for their 'talented craftsmanship and story-telling"
A graduate of the School of Art's BA (Hons) Fashion course has won the International Emerging Designer Award at New Zealand's ID Dunedin Fashion week 2019.
Rebecca's Collection, 'The Story of Miss Ruby Ribbon', is inspired by childhood memories and her deceased pet parrot, Ruby. Judge Benny Castles described the garments as "uplifting and inspiring", adding that it possessed "a sense of playfulness which belied the intricate detailing of her design".
"It was so exciting and unbelievable that I got to go to New Zealand and show my collection which I made whilst studying in Manchester, with no idea of where it would take me" commented Rebecca.
"It's given me an amazing platform and experience to show my work in a different part of the world. It's given me belief in myself and my work".
When asked about her sources of inspiration, Rebecca explains that "It's always internal, it comes from what I'm feeling. I'm a sensitive and emotional person and I put all of that into my creativity. My motivation is to find inner peace, and to help others have a sense of that."
"The Fashion team are delighted to hear of Rebecca's success" added Dr Susan Atkin, programme leader for BA (Hons) Fashion at the School of Art. "She is a creative, talented individual whose work has always had a unique quality to it that reflects her sense of humour, use of colour, surface pattern and love of telling a story through clothes".
"Rebecca is a great example of how creative and original our students are and how they can channel that into cohesive design work that reflects their professional underpinnings. We wish her much luck with this collection and future work."
The fashion course let me explore my creativity and learn skills. The facilities in the Art School were incredible and I could not have produced my collection without them.
Rebecca says that her time on the BA (Hons) Fashion course set her up for her creative career, adding that "Without the course, the university or the tutors, I wouldn't have got these opportunities. In particular, her second-year internship with designer David Longshaw was "massively helpful, because I learned about pattern cutting and making cuddly toys which informed my own collection. Anything which requires you to learn is helpful to your own skill set."
When asked what advice she would give to new Fashion students or graduates, she replied: "Explore your creativity, keep learning and never give up!"
You can view more of Rebecca's work on her Instagram, or her Degree Show page.