25 October 2006
Make your own shadow
An exchange exhibition from the Finnish Academy of Fine Arts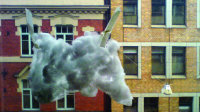 27th October - 17th November 2006
Holden Gallery
Manchester Metropolitan University
Grosvenor Building, Cavendish Street
Manchester M15 6BR
Gallery Open: Monday-Friday 10am-4.30pm
Make your own shadow is the third in a series of exchange exhibitions between postgraduate students from KUVA in Helsinki and the MA Fine Art course at MMU.
Pilvi Takala (born 1981 in Helsinki) works mostly with performance and video. She questions and makes visible the unwritten rules of everyday life. Wallflower is based on a performance situated in dance-events for Finnish tourists in Pärnu, Estonia. Pärnu is very popular tourist destination among Finnish people and events visited by the artist are a version of the traditional Finnish summer pavilion dance. Mostly older couples on their holidays come to these events; they dance only with their partners and never ask strangers to dance as it would be appropriate in the proper dance-events in Finland. The artist showing up overdressed and obviously expecting to get to dance creates a very awkward situation and pushes the boundaries of Finnish modest mentality and the Finnish idea of politeness.
Johanna Ketola (born 1978 in Jyväskylä) works mainly with video and photography. In her works she approaches the world through stories and characters, either based on other people or herself. Her practice utilizes every day life observations, which result in either fact or fiction. In general she is being touched by certain kind of sweet and absurd hopelessness of being human. In this exhibition she shows a piece called "I am Johanna ". It is a mixed media work made in collaboration with Johanna Sipilä in 2006. The piece is based on a story told by two Johannas. On her earlier pieces she has also used text as a part of the work.
In his works Sebastian Lindberg (born 1978 in Helsinki) tries to deal with questions of how we are in the world and what we can understand of being in the world. For example what's the difference between subject (I) and object (the world), and what are the limitations of language, and how and if we can understand concepts like infinity and nothingness. In the last years he has been working primarily with video and video installations. The works are narrative but often trying to deconstruct their own narratives. His current work entitled "State of mind" deals with an idea of infinity as expressed in the idea of growth in capitalism but it's also a sketched portrait of a certain country, a certain country that in today's world in many ways could be almost any country for better and for worse.
Marja Mikkonen (born 1979 in Tornio) is an artist who uses various forms of media in her work, such as live performance, video, film, installation, text and photography. Her work is often dealing with memory and personal experience, sudden occurrences and thoughts about change. Mikkonen lives and works in Helsinki.
"Rondo" is a poetic film about memory and change. Containing no dialogue, shot on 8mm and offering no detailed information about the personalities of the two main characters, the film attempts to describe a state of mind of a person in crisis.
Hans Rosenström (born 1978 born in Lohja) works mainly with installation art and actions in both public spaces and galleries. He is interested in site-specific art but likes to call his own practice situation-specific, where the works spring from or create situations that are conceptually entwined with the elements surrounding them. The work in Holden gallery is a sound installation inside a tent.