5 July 2010
Graduate to star in blockbuster
John lands part in Game of Thrones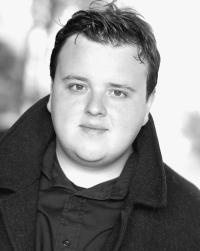 A TALENTED Manchester student has been headhunted for a fantasy journey to 'Middle Earth'!
John Bradley-West, 21, from Wythenshawe, has landed a dream part in the major new TV series
Game of Thrones
, starring Sean Bean and Lena Headey.
The show, based on George R. R. Martin's
A Song of Ice and Fire
novels, has been described as "The Sopranos in Middle Earth", and is made for the HBO network which brought us Sex and The City and True Blood.
John, who graduates from MMU's School of Theatre on July 16, is a graduate of Loreto College, Hulme and St Paul's RC High School, Wythenshawe.
Turmoil
Set in a fictitious world reminiscent of Medieval Europe in which magic exists and the seasons can last for many years, the Song of Ice and Fire series follows the violent dynastic struggles of an empire in turmoil.
John plays the role of nobleman's son, Samwell Tarly, who lives in the shadow of his father and becomes a major character in the second series.
"He's basically a downtrodden lad who, without giving too much away, comes good in the end," says John who landed the part at his first audition outside MMU, and joins filming in Northern Ireland in mid-August.
Despite having major roles in MMU theatre productions, The Three Sisters and the Joe Orton farce Erpingham Camp, the Manchester actor admits playing alongside Hollywood actors is a major step up.
MMU training
"I am going to have to draw upon every ounce of my training and hope I do a good job. That's all I can do."
The fantasy drama has generated enormous, online interest for a series at such an early stage and will be on our screens in Spring 2011.
http://en.wikipedia.org/wiki/Game_of_Thrones_(TV_series)
For more about Acting at MMU, visit our
School of Theatre
site.