4 May 2012
Richard Creme Exhibition
Icon turns to art after stroke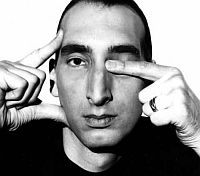 MMU is hosting the first exhibition of Manchester icon Richard Creme four years after he suffered a devastating stroke.
Richard who is credited with bringing designer fashion brands to the city in the Eighties, lost the ability to speak when he suffered a stroke aged 50.
Suffering from depression and unable to continue with his work at his shop Creme, he turned to painting to express himself.
Richard's works will go on show at MMU's Link Gallery as part of The Stroke Association's Action On Stroke Month, supported by Arts For Health.
Bowie, Prince, Beckham
Arts for Health director Clive Parkinson, from Miriad, explains that the exhibition came about through a meeting with the Stroke Association to discuss the arts.
Clive explains: "Chris is a huge and extremely elegant man but the stroke has affected the right hand side of his body and taken away his ability for word-finding and speech, leaving him with a million thoughts and ideas, but unable to converse in sentences.
"He passionately wanted his drawings and paintings to be exhibited and talking with the curators of the Link Gallery – Elisa Artesero and Roger Bygott, it quickly became apparent that we had expertise to make it happen sooner rather than later."
In his heyday, Richard dressed celebrities including David Beckham, Gary Oldman, David Bowie and Prince, as well as most of Manchester United, and many of the trendsetters of the Manchester scene from the 1980s and 90s are expected to visit the gallery.
Beautiful
Added Clive: This is a show about a man, and his life. His incredibly beautiful work, and how art has the potency to reach out to us at the most difficult times."
Chris Larkin, from The Stroke Association, who is studying for an
MBA at MMU Business School
, said: "Richard is an incredible example of life after stroke. The event is a celebration of Richard's transition from fashion guru to visionary contemporary artist, and a chance to dispel some of the myths about stroke."
The Richard Creme exhibition runs at the university until May 11.
Further Information