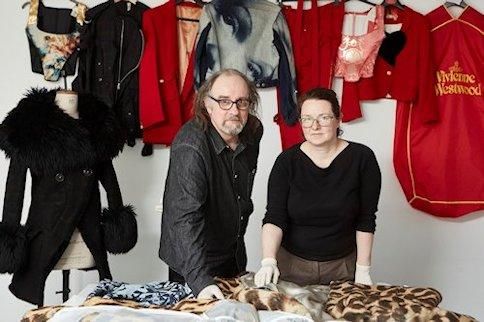 Special Collections receives Vivienne Westwood collection
6 March 2015
Vintage clothing donated by Malcolm Garrett
SHE is the Grand Dame of fashion and he is one of the world's most respected graphic designers.
And now Malcolm Garrett has given his collection of designs by Vivienne Westwood to MMU's Special Collections on long-term loan.
There are more than 100 pieces in the collection, covering Westwood's infamous "punk" era when she collaborated with Sex Pistols manager Malcolm McLaren to create clothes for their notorious boutique, Seditionaries, and her later collections which drew on British heritage in a tongue-in-cheek manner.
Westwood and McLaren's shop on London's Kings Road was known as the birthplace of punk, and many of the pieces in the Garrett collection – including a bondage-inspired Seditionaries shirt – reflect these influences.
Clothes for heroes
Malcolm is known for his work with artists including Simple Minds, Duran Duran and Peter Gabriel. He studied at the Manchester School of Art alongside Peter Saville, and his first breakthrough came when he was asked to design the cover of a single for the Buzzcocks. He is now creative director of communications agency IMAGES&Co.  
He said: "I've always worn Vivienne Westwood clothes because they have this ability to make you feel really special – it was no surprise that Seditionaries had the tag 'clothes for heroes'. They demand a certain commitment to what you're wearing and you do feel almost superhuman.
"I've been amassing this collection for more than 30 years – I bought my first piece, a black glazed cotton bondage jacket, in 1978. I felt they should be preserved and made available for future use, and my connection with MMU and Manchester's heritage in the fashion and textile industries made it an obvious decision.
"Nobody's going to see them if they're in my closet – this way I'm still wearing them through the School of Art. It's just so right that the collection is here."
Fantastic collection
Malcolm said that due to the nature of the lives the people wearing these clothes led during the 1970s and 80s, many of the iconic pieces have been lost or destroyed, which makes the collection all the more valuable.
He added: "I'm proud that I had the presence of mind to start collecting them."
Stephanie Boydell, Curator of MMU Special Collections, said: "We are thrilled to have this collection at MMU. It includes some of the most iconic examples of fashion by Vivienne Westwood from the 1970s and 1980s. It cannot fail to inspire our students, and may even force a tear of nostalgia from some of our older visitors.
"Malcolm Garrett is a hugely important figure in British design, and this collection illustrates his eclectic tastes, from everyday, mass produced, pop-culture objects to haute-couture. It tells a remarkable story about how culture, past and present, shapes and informs great design."