20 July 2007
Lord Patel made Doctor of Letters
MMU honours world class health professional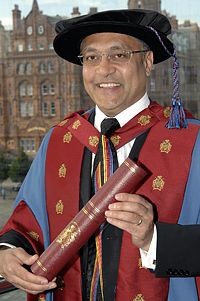 LORD KAMLESH Patel of Bradford, the man charged with transforming the way the NHS tackles race and racism, has been honoured by Manchester Metropolitan University.
Lord Patel, Chair of the Mental Health Act Commission and long-time campaigner for equal treatment of black and ethnic minority people in health services, received an Honorary Doctorate in Letters from MMU's Faculty of Health, Psychology and Social Care.
An academic and former social worker, Lancashire-based Kamlesh Patel was appointed a cross-bench life peer in 2006 for his contribution, both practical and intellectual, to the issue of ethnicity in the health service and social care system.
Professor Vince Ramprogus, Dean of MMU's Faculty of Health, Psychology and Social Care, said: "Lord Patel has a track record of pioneering work in the key areas of our work here in Manchester - community engagement, health inequalities, criminal justice, mental health and social change.
Social Work
"Although he started his early career in social work in Bradford, his later work in research, teaching and enterprise has had major impact in the Northwest and at national level. This award not only recognises his significant achievements but also celebrates the Faculty's success in these fields."
Kamlesh Patel has 20 years of experience in the health and social care field as a practitioner, manager and an academic. He has successfully established several innovative mainstream and ethnically specific substance use and mental health services.
In the late 1990s, he established the Centre for Ethnicity & Health at the University of Central Lancashire, which now employs 50 senior staff and has gained an international reputation for its work in addressing inequality in the health, criminal justice and social care fields.
Kamlesh lectures, advises and publishes widely on his work and has worked on the boards of the Central Council for Education and Training in Social Work, the Advisory Council for the Misuse of Drugs and the Healthcare Commission (CHAI). He is chair of the Audit Committee of the National Treatment Agency for Substance Misuse and has served the Mental Health Act Commission since 1995 culminating in his appointment as Chairman in 2002.
Department of Health
In July 2003, he was appointed by the Secretary of State to act as National Strategic Director for the National Institute for Mental Health (England) charged with developing and implementing the Black and Minority Ethnic Mental Health Programme. In August 2004, Kamlesh took up a part time secondment as National Director for the Department of Health leading on the Government's Black and Minority Ethnic Mental Health Programme.
Lord Kamlesh Patel of Bradford received his honorary degree at the Faculty's Graduation Ceremony at Bridgewater Hall, Manchester on July 19.
--Ends--
MMU's Faculty of Health, Psychology and Social Care runs a wide portfolio of courses which span academic disciplines within the caring and enabling professions, including social work, psychology, nursing, youth and community work, careers guidance, community work, physiotherapy, speech and language therapy and other health-related subjects.
The Faculty is actively involved in research and much of the work of the Faculty is driven by government policies and priorities, for example, the Children's Act, "Every Child Matters", the HE Act, ongoing review of professional and statutory bodies, the review of the NHS Plan, and changes to funding provision in HE and health and social care.
For more about the Faculty, go to www.did.stu.mmu.ac.uk