24 October 2007
MMU - the Manchester United of Art?
Strong cultural links to China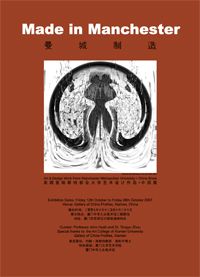 SOME of the UK's most innovative art is being exhibited in China next month in the run-up to a major art festival next year - the Asia Triennial, Manchester 2008.
Professor, lecturers and postgraduate students team up to present 'Manchester: Our Tradition is Innovation' at the Academy of Fine Arts in Guangzhou (5-18 November, 2007).
The exhibition by Manchester Institute for Research and Innovation in Art and Design (Miriad) features 52 artists and is part of a growing relationship between MMU and China.
Professor John Hyatt, Director of Miriad, said: "The Chinese look to Manchester as an important example of a regenerated post-industrial success story and our artists and designers as a key element of that.
"Without wishing to offend City fans, our collaborators see us as the Manchester United of Art and Design!"
Master Classes
Through The China Project, led by Miriad's Dr Tongyu Zhou, art researchers and practitioners have been leading a programme of Master Classes co-organised with Chinese higher art institutes to appeal to university students, professionals in the cultural industries and the Chinese public.
Ed Bennis (Landscape Architecture) and David Haley (Environmental Art) have travelled to Beijing, Guangzhou and Xiamen to present lectures and workshops while John Hyatt (Fine Art), Helen Felcey (Ceramics) and Keith Brown (Sculpture) are involved in exchanges of ideas, practice and research.
The China Project is leading up to the Asia Triennial Manchester in 2008 (ATM08), a UK first co-organised with Manchester-based Asian Art Agency SHISHA and involving six Manchester art galleries.
ATM08 will be a festival of visual culture that not only celebrates the city's diverse communities but also explores the cultural, artistic and political debates of the 21st century.
For more about Miriad, go to www.miriad.mmu.ac.uk.