12 December 2007
Interior Design students win Christmas tree competition
Manchester hotel showcases their contemporary design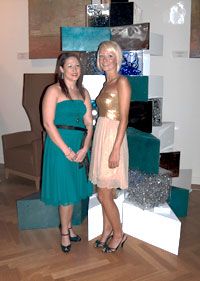 Two budding interior designers from MMU will see their design ideas take centre stage at a city centre hotel this festive period. Kirsty Atkinson (19) and Melissa Pope (21) have won a competition set by City Inn to design a contemporary Christmas tree for the hotel chain.
Forty first year BA (Hons) Interior Design students took part in the challenge to re-design the traditional Christmas tree, with six of the best selected to present their vision to staff at City Inn Manchester. Kirsty and Melissa's bold creation caught the judges' imagination and will be on display at the Piccadilly-based hotel until 6th January 2008.
A time of reflection
Kirsty said: "We started off the project brainstorming what Christmas meant to us and the various symbols of Christmas. Melissa and I had similar ideas so decided to work together. Our Christmas tree design has Perspex cubes containing baubles, fairy lights and tinsel in hues of white, blue and silver and mirrored cubes, representing Christmas as a time of reflection, stacked like presents in the shape of a traditional tree."
Kirsty continues: "Apparently the judges really liked the reflective element of our Christmas tree and Melissa and I were so excited to find out we'd won. We then had to source materials and a manufacturer to make the tree, whilst working to a budget, and install it in the hotel. The project has given us some fantastic experience and it's been amazing to see our designs come to life. We hope visitors enjoy our Christmas tree as much as we enjoyed creating it."
Kirsty and Melissa were presented with a meal for two at the hotel by Darren Townsend, General Manager at City Inn Manchester.
For further information on Interior Design courses at MMU go to http://www.artdes.mmu.ac.uk/interiordesign/.