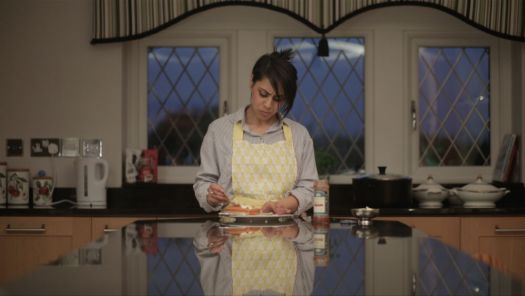 Filmmaking graduate to present 'personal' work at London Asian Film Festival
13 March 2017
'Potluck was the turning point for me' says Nikita Kalhan
The work of BA (Hons) Filmmaking graduate Nikita Kalhan has been shortlisted for the Tongues on Fire (TOF) 12th Annual Short Film Competition, and is set to be shown at the London Asian Film Festival on 16 March. 
Her work is one of 12 works to have made the shortlist, being selected by a judging panel consisting of renowned writer and activist Farrukh Dhondy, Noel Goodwin - the BFI's Education Strategy Manager and Programmer for Young People, documentary filmmaker Balvinder Mudan and TOF's Creative Director Samir Bhamra. 
'The particular nomination was important to me,' Nikita commented, 'because the festival aims to promote the work of Asian filmmakers.
One of my goals (and the way I see it -responsibilties) as an Indian filmmaker is to create more compelling and captivating roles for Asian actors: I'd like to create powerful, spirited female characters. 
The medium of film is vital to communicate ideas and concepts to audiences. It is also important, however, that these stories come from different ethnic backgrounds, so that young people can find role models that they can directly relate to in a world where media and film are so prominent.' 
Nikita's short film, Potluck, portrays a family dinner party where tensions between a dutiful wife and her business-minded husband come to the fore. 
She explains that 'Potluck was born from a sense of personal discontent with problems I had witnessed in (some) Asian communities. I felt as though there existed this unfair stigma that divorce, homosexual and inter-racial relationships could "taint" a person for life. 
For my graduate film, I wanted to tell a story that demonstrated how these cultural pressures could impact on an individual, while simultaneously wanting to write about a strong, Asian female character; so these two ideas went hand-in-hand nicely. 
Throughout my course, I had struggled to come up with film ideas I liked for longer than a week, and in my third year realized that this was because I was trying to write stories I had no personal connection to. 
Potluck was my turning point because it taught me that putting pieces of yourself into a story is what makes them important to you, and thus provides them with life and longevity.' 
Potluck will be screened as part of the London Asian Film Festival at the London Film Academy on Thursday 16 March. 
To find out more about filmmaking at Manchester School of Art, visit the course page.