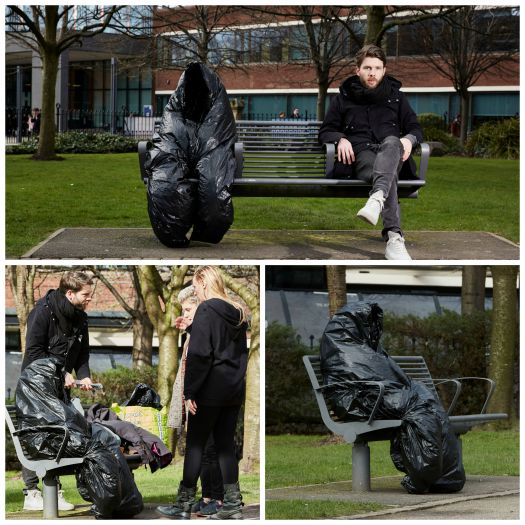 Haunting 'Hello Hollow' sculptures occupy All Saints park
14 March 2017
Short-lived art work part of the city's SICK! Festival
Haunting plastic figures have taken up residence on benches scattered around Manchester Metropolitan to create new interferences in the public space.
The sculptures Hello Hollow, by artist Julian Hetzel, have come to Manchester as part of the SICK! Festival that is currently taking place across the city.
The shape-shifting silhouettes can be spotted around All Saints park and on nearby Brunswick Street from March 14-18.
Constructed out of plastic bags, the anthropomorphic figures are created to be short-lived and changeable, moving from location to location each day and beginning anew.
Ephemeral
The installation is part of SICK! Festival which aims to challenge the physical, mental and social challenges of life through an outstanding international arts programme.
Watch Julian Hetzel discussing Hello Hollow in All Saints park.
Artist Julian Hetzel is showcasing his work in Manchester for the first time after Hello Hollow previously exhibited in Austria, the Netherlands and Germany.
He said: "The sculptures are sitting in the public space but they come and they go – they are ephemeral. The wind makes them move and they create some kind of interference in the public space. It is a visual noise that hardly anybody can really pass, so people get confused because they don't know what they are seeing.
"People constantly try to make sense, they try to fill it with meaning and try to understand what is in front of their eyes with these plastic people.
Public spaces
"They appear and disappear. The material is on the edge of being garbage, so you need to want to see the beauty in them."
He added: "People walk towards them to try to communicate and to understand, to search for answers from their side or a response. Some people put their dogs on them and others donate money. In each place it has a different impact in what it provokes."
Julian believes the sculptures resonate with the issue of homelessness within Manchester: the public art, public spaces and people who reside in the public space all intersecting.
Students from Manchester School of Art worked with the artist to create the figures and will now watch over the installation, helping to move to new locations each day.
Helping hand
Lizzie Abbott, a third year BA (Hons) Fine Art student, said: "It will be interesting to see people's reaction, especially outside of the park. People certainly did a double take when we first worked on the sculptures."
The inspiration came from Julian's work in the visual arts and theatre, before the sculptures graduated from the stage to form their own installation in public spaces.
The name Hello Hollow was taken from one of the first incarnations of the art work after people would regularly engage and talk to the figures.
For more information on Julian's work, see www.julian-hetzel.com. SICK! Festival runs in Manchester and Brighton from March 8-25. For more information, see www.sickfestival.com.