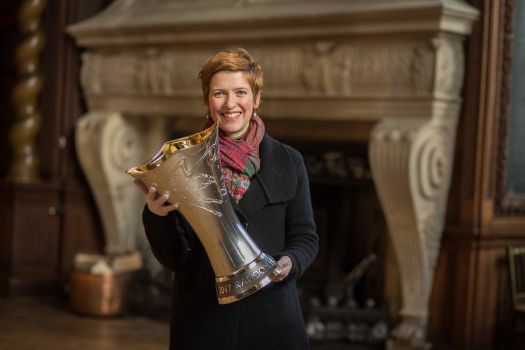 Silversmith design graduate makes Grand National trophy
6 April 2017
Shannon O'Neill's cup will be presented to owner of winning horse
A silversmith who studied at Manchester Metropolitan University has created the trophy for this weekend's Grand National.
Shannon O'Neill, who followed a 3D Design course at the University between 1992 and 1995, won a competition to design the cup for the world's most famous horse race being held at Aintree Racecourse on Saturday.
Up to now there has been a single trophy that has to be handed back to the race organisers by the winning owner but new race sponsors Randox Health decided to hold a competition to commission an artist to create a new trophy for each of the five years of their naming deal.
Shannon won the contest ahead of two other contenders after a nerve-racking wait.
Wonderful news
She said: "It was the most spectacular and wonderful news to receive ever, particular as I grew up in Liverpool so you can imagine how special it is.
"The fact it's the Grand National, it couldn't get much bigger.
"Even being in the running was a huge honour and it's a huge thrill to do it."
The cup is a solid silver piece, weighing 2kg and standing 45cm tall, and has a design of a jockey riding a horse etched around it. The owner of the winning horse will receive it.
Shannon was asked to produce three miniature versions to be presented to the trainer, jockey and groom - something new for 2017.
She worked with seven other silversmiths to get the job done in just 12 weeks.
"For me it's been a huge learning curve and very exciting as I never get the opportunity to work on something so big," she said.
"The base is 3D printed, the body is spun, the decoration was carved and it was gilded and polished. There is a red stone set in the O of 'Randox' to represent a drop of blood."
Switch from ceramics
Shannon's specialism during her Manchester Met degree was ceramics but in her final year switched to metalworking and surprised everyone to win the Young Designer Silversmith Award in 1995 with a design for a jug that is now on display at Manchester Art Gallery.
After graduating she worked as a puppetmaker on films including some of director Tim Burton's blockbusters, including a stint in the US, and continued her passion for metalwork on the side.
Five years ago she seized a now-or-never opportunity to take a space in the workshop of a retiring silversmith at Burghley House in Stamford, Lincolnshire, and commit to silversmithery full time.
She said: "University is where I got the bug.
"It's been a real thrill to be asked to make the trophy."