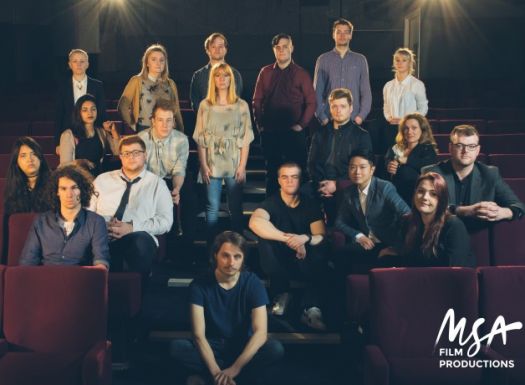 Manchester Met student production company hosts film festival at HOME
5 June 2017
Tickets are available now for the two different screenings on Wednesday June 7th
A production company formed by 30 filmmaking students from Manchester School of Art at Manchester Metropolitan University will host their own film festival at HOME on June 7th.
MSA Film Productions was founded and is being facilitated by Christiane Hitzemann, lecturer in filmmaking at Manchester School of Art, as a pedagogical research project about the conditions of student led peer-to-peer teaching.
The company is run by a group of third-year students. They have since produced 20 short films that will be shown at HOME cinema over two screenings, in genres including sci-fi, documentary, animation and period drama.
The students run the company together using a collaborative ethos, and have formed partnerships with graphic design, textiles and photography students within Manchester School of Art and colleagues at the Royal Northern College of Music.
Tickets for the two-hour screenings at 4pm and 6pm - which will each show ten different films - are for sale via the HOME website. Some of the films which will be screened are:
I Am Flesh (Science Fiction)
A young woman lives in a factory setting on the sea. Believing that she is there to be cured of a terminal illness, she witnesses a vision of herself in another body while she is hooked into a strange machine. Along with the suspicious actions of her 'carers' – escape becomes a priority.
Gaia (Artist Film)
Gaia is an abstract AMI expressing about the beauty of creation and the four elements.
Molly and Lexi's Multiverse Odyssey (Animation)
Molly the Cat and Lexi the Dog end up in different space dimensions and must find their way home unaware their fate and actions are in the hands of higher powers.
Let's Not Cry Over Spilt Milk  (Dark Comedy)
After her father's suicide, a young woman gets drunk with her ex-boyfriend, with the intention of trying to understand her father's unintelligible last note. They are forced to confront the harsh reality that knowledge rarely leads to understanding.
Firehouse (VR Documentary)
The London Road rehouse used to be a thriving social community, a home for workers, and overseas trainees such as Firemen who came from all around the world to train. At the speed of current change in Manchester, it is important to preserve a piece of identity.
Jack Silverwood, Manchester Metropolitan filmmaking student and Director of MSA Film Productions, said: "Working in MSA feels like we're all working towards something big - and actually gives us the experience of working in a real-life production company scenario."
 Christiane Hitzemann, Lecturer in Filmmaking at Manchester Metropolitan University, said: "I am extremely proud of this group of talented students who have shown maturity and enterprise to put together their own production company.
"To have created such a large number of high-quality films so quickly is testament to their creativity, shared ethos and hard work. I urge people to buy tickets for their two screenings at HOME. They will be captivated by the efforts of these Manchester Metropolitan University students."
Tickets are on sale now.