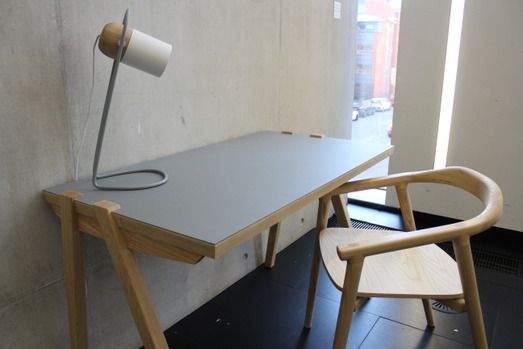 Looking forward to the New Designers and our future lifestyles
27 June 2018
Andrew Hamilton prepares for London's prestigious graduate showcase
Three Dimensional Design student Andrew Hamilton will be joining over 3,000 graduates from across the country in exhibiting his work at New Designers in London.
In the lead up to the Manchester School of Art Degree Show he was selected for New Designers at, Andrew shared the ideas, processes and experiences behind his designs.
Looking to the future
My final year project has culminated in a in a range of objects that have stemmed not only from my time experimenting in the workshops and studio, but also from my dissertation research.

I explored ideas about digital manufacturing and how it can be embraced by the manufacturing industry without losing the warmth and character of craftsmanship. This required me to build on my practical experience of working with the materials by becoming more familiar with industrial manufacturing.
Complimenting these two approaches was a broad theoretical study in to the history of our relationship with objects along with exploring ideas about what objects might exist in the future as we become more heavily influenced by digital technology.
Being able to speculate about things that don't yet exist yet is one of my key skills that I have picked up during my time at Manchester School of Art. This skill can be applied to the broad concepts about future lifestyles and behaviours as society changes, as easily as it can be applied to the detail decisions about the construction or formal composition of a piece. Using these skills has enabled me to think more originally and independently from conventional or existing offerings.
Making ideas a reality
The result of this thinking and practice is a chair made on a CNC routing machine, with the help of the fantastic technical team to access and learn about the technology, enabling me to bring my project into reality.
The chair intends to possess the warmth of hand-craftsmanship, yet a closer look reveals things that are unique to the CNC manufacturing process. Complementing the chair are a desk and a lamp, both of which are born out of extensive material experimentation in search of unique uses of material and construction.
Working collaboratively
Alongside the range is a collaborative project that I did with another student on my course: a battery operated ambient desk lamp with a playful character.
Utilising his aptitude for technical problem solving allow the idea to progress quickly. Opportunities to collaborate in this way have not only made for better products, but learning to be passed around students, by trading knowledge in each other's strong areas.
Finding design identity
Design is such a varied umbrella word for an eclectic collection of definitions. This can be daunting when you're surrounded by ideas of what design is that you do not feel comfortable with at times, but it is a great way to strengthen our own identity as a designer. I have left the course with strong focus and conviction about the area of design that I intend to become successful in, along with a lot of respect for all the other areas of design and the people who excel in them.
I think that this variety is the strength of the course. It would also be fair to say that without the technical staff, my experience would have been a lot different. I came here to learn to design tangible, physical things. The technical staff are in the workshop day in day out, endlessly multi-tasking and deeply involved with the creation of objects and projects.
Andrew's work will be on display at New Designers Week 2 (4-7 July). You can find out more about his work on his website and Instagram.