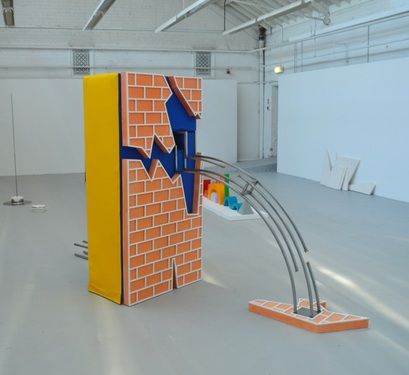 Woon Foundation Success for Manchester School of Art Sculptor
7 July 2017
Liam Fallon wins £9,000 from the Woon Foundation Painting and Sculpture Art Prize 2017
Liam Fallon, who is due to graduate from BA (Hons) Fine Art in July, has been awarded second prize in the Woon Foundation Painting and Sculpture Art Prize 2017. 
Now in its fifth year, the prize offers the winner studio space in BALTIC 39 in the centre of Newcastle, as well as £20,000. There are also prizes for runners-up including £9,000 which was awarded to Liam for his bold sculptural works that explore queer culture. 
Liam was one of ten students from across the UK to be shortlisted for the prize by a panel consisting of Turner-Prize nominated artist Christine Borland; Holly Hendry who is an artist and was the inaugural recipient of the Woon Prize; Turner Prize nominee Hilary Loyd; and Chief Curator of BALTIC 39 Laurence Sillars.
'When my name was read out as the winner of the Lim Ai Feng Prize [Woon Foundation runner-up prize] it was a complete dream come true,' commented Liam. 
'Winning second prize and being recognised by judges and an art institution that I really admire is just a really encouraging and humbling experience. 
Prior to the award, I was aware that some aspects of my practice were going to change, but now with this recent success, it has provided me with an opportunity to continuing making ambitiously.' 
With his recent achievement, Liam follows the success Manchester School of Art alumni Rebecca Halliwell-Sutton and Bex Ilsley, who were awarded first and third place prizes in the Woon Foundation Painting and Sculpture Art Prize 2016. 
Liam expressed his suprise at being awarded second place after the success of Rebecca and Bex: 
'Following on from the success of last year's Woon Prize, with Rebecca winning and Bex coming third, I was just really content with even being shortlisted and wasn't expecting anything because of their success and also because of the quality of work from the other shortlisted artists.' 
You can find out more about Liam and his work on his Degree Show profile.