5 March 2008
Sport facilities pass Olympic test
MMU approved for pre-2012 team camps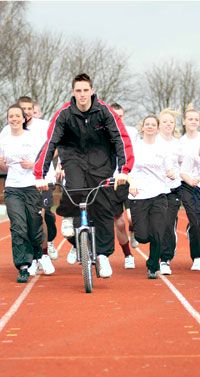 SPORTS facilities at MMU have been approved for pre-Olympic training camps by the London 2012 organisers.
MMU Cheshire is one of scores of venues UK-wide bidding to host a national team training camp ahead of the London Games.
And this week the Games Committee included the university in the "London 2012's Pre-Games Training Camp Guide" for football, archery, badminton, basketball, volleyball, fencing, table tennis and triathlon.
MMU's partner bidder Crewe & Nantwich Borough Council has been approved for athletics and BMX biking.
Fantastic
Professor Les Burwitz, who is leading the University's bid, said: "This is a marvellous achievement. Our football facilities in particular are outstanding and we have lots of strengths, notably in the sport science and medicine facilities and expertise at Alsager and also at nearby Keele University.
"We want to make the 2012 Olympic and Paralympic Games 'Our Games' with a real legacy for local residents and students."
Being approved for football and triathlon is especially exciting as this could really bring in a medium-sized nation, possibly one of the developing nations from Africa.
Manchester City FC train at MMU Alsager each summer and the Campus hosted the Italian squad ahead of Euro 96.
Student athletes
London 2012 will now include MMU Cheshire in its 'Guide Book' of recommended camps which it will issue to more than 200 participating Olympic associations.
Cheshire is one of only seven venues nationally to be approved for BMX, and that will suit five times British BMX champion Sean Issitt, a second-year student in Sport and Exercise Science at MMU.
Third-year sport science student Ben Swain is also aiming for a medal at 2012 after being selected for Beijing 2008 in diving.