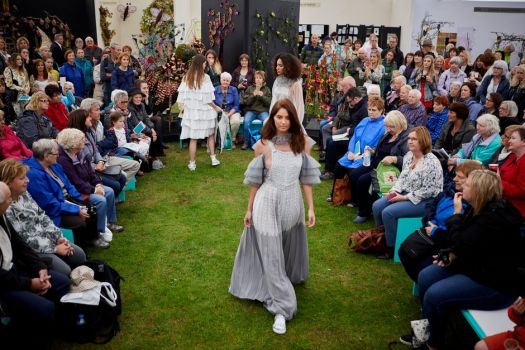 Fashion students blossom at RHS Tatton Park flower show
26 July 2017
Manchester School of Art staff also transformed two greenhouses into mini art galleries
Young designers and staff from Manchester School of Art showcased their work at the RHS Tatton Park flower show.
Eight final-year BA (Hons) Fashion students displayed their degree show designs at a special fashion show during Ladies Day, and at a pop-up exhibition at the event. Students who had ties to the North West were put forward, particularly those whose choice of colours and fabrics were likely to impress the plant lovers in attendance.
These were:
Bethan Currie
Alexandra Henshall
Aoife Robinson
Judith Grant
Abigail Dockree
Zsofia Juhasz
Ella James
Emily Hancock
Staff from the School of Art took over two greenhouses, transforming them into mini-galleries with Greenhouse Artists in Residence creating different artworks each day.
Those taking part were Jane McFadyen, Clare Knox-Bentham, Alan Holmes, Ian McCullough, Adriano Digaudio and Emma Haines, a graduate who now has a place at Marketplace Studios in Stockport.   
These proved to be a huge hit – so much so that TV gardener Monty Don was captured relaxing in one during the BBC's coverage of the show. 
Over 80,000 garden enthusiasts attend the spectacular week-long event, which has been running at the Cheshire venue since 1999.
Marcus Lord, External Liaison Manager for Manchester School of Art, said: "It is always a joy to see our graduating students given the opportunity to showcase their work at the RHS Tatton Park flower show. Their annual fashion show always receives an excellent response from the public. We cannot wait to return next year with another group of hugely talented young designers."