18 April 2008
MMU student goes from strength to strength
Second big win following injury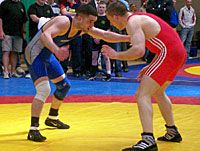 MMU wrestler Yousef Alikhasi is going from strength to strength, just two years after a dislocated knee threw his sporting career into doubt.
The determined athlete and BA (Hons) Business student has won silver at the Northern Ireland Open Wrestling Championships in Carrickfergus, just four months after winning gold at the British Wrestling Association's Novice Competition.
Yousef, 26, competed against top wrestlers from across Europe to take silver in the senior category, losing only to the heavier Tom Carlisle. It was the first time Yousef, who usually competes in the 63kg weight category, had competed at 68kg.
A professional career?
Yousef only took up wrestling five years ago but has high hopes for a professional sporting career.
Yousef said: "It's fantastic to have won a second medal so soon after returning from injury. It's really boosted my confidence and made me even more determined to make it as a professional wrestler."
He continues: "I know it'll take a lot of hard work, but I'm prepared to put in the time and effort to get there. At the moment I'm trying to get as much experience as I can – I trained in Iran for two months last summer and will be travelling to Japan in May to train at Tokyo University."
In Manchester, Yousef trains at the Sugden Sports Centre and has even established a university wrestling team for students at MMU and the University of Manchester. He hopes to be selected for the University Games in Greece in July.
For information on other talented athletes at MMU go to http://www.mmu.ac.uk/sport/Talented/tass_athletes.php