Dr Danielle Child
Lecturer
Art History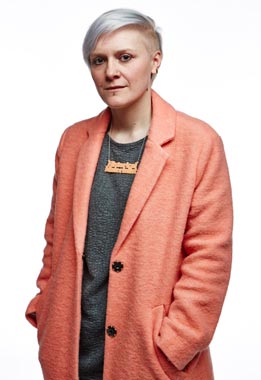 Key research interests:

Marxist art history

Labour and art in relation to social, economic and political change the 20th and 21st centuries.

'Social practices' in art: collaboration, contracted labour within and outside of the studio, socially-engaged artistic practices, relational aesthetics, artists' groups/collectives and art-activism.

Awarded a PhD in 2011 from the University of Leeds. Thesis title: 'Socialised labour under Change: Collaboration, Contracted Labour and Collective Modes of Production in Art since the 1960s.'

Danielle's thesis examines socialised labour in art since the 1960s in relation to the internal changes within capitalism that manifest at the levels of the economic and the ideological. Chapters address the emergence of US art fabricators in the 1960s/70s in relation to the deskilling thesis; the UK- based facilitator model that has survived (and flourished) under neoliberalism - the Mike Smith Studio; and the socialised artistic practices that have been prominent in art discourse since c.1990s - relational aesthetics and art-activism.
Projects
Manchester School of Art, Thursday 30th October 2014. Over 70 years ago, the anarcho-syndicalist art critic - Herbert Read - wrote 'To Hell with Culture' (1941). Details…
Research
Danielle Child is a member of the Visual Culture Research Group.
A selection of recent research outputs.
Internet Publications
Child, D., 2016. 'Routledge Encyclopedia of Modernism: Entries on Collage, Michael Fried, Allan Kaprow and Jackson Pollock', https://www.rem.routledge.com.
Child, D., 2014. 'Selection of articles for Red Pepper magazine', Red Pepper Magazine, http://www.redpepper.org.uk/by/danielle-child/.
Child, D., 2013. 'Art-activism & Technology: Re-examining the 'neutrality of machines' under neoliberalism', Convergence, Engagement & Power: The 6th Annual ICS PhD Conference, http://ics.leeds.ac.uk/files/2013/07/2012-PhD-Conference- Proceedings.pdf.
Journal Articles
Child, DL., Reckitt, H., Richards, J., 2017. ''Labours of Love': A Conversation on Art, Gender, and Social Reproduction', Third Text, 31 (1), pp. 147-168.
Child, DL., 2017. 'Art, Politics & the Public Square: From decoration to declaration!', Art and the Public Sphere, 6 (1-2), pp. 19-31.
Child, D., 2015. 'Dematerialization, contracted labour and art fabrication: the deskilling of the artist in the age of late capitalism', Sculpture Journal, 24 (3), pp. 375-390.
Child, DL., 2015. 'To Hell with (the contemporary commodification of) Culture!', Anarchist Studies, 23 (2).
Child, D., 2012. 'Moving Mountains: Art History for the Neoliberal Era', Reviews in Cultural Theory, 3:2, 27-34.
Child, D., 2012. 'The artist as project manager: Thomas Hirschhorn's Bataille Monument (2002)', Journal of Arts & Communities, 4 (3), pp. 217-230.
Presentations
Child, D., 2017. 'Sculptor at work: Ghisha Koenig and the Representation of Labour', Henry Moore Institute Evening Lecture, Henry Moore Institute, Leeds, 31st May 2017.
Child, D., 2016. 'Art & the Public Square: From decoration to declaration!', Artists' Critical Interventions into Architecture and Urbanism, University of Warwick, 15-16th July 2016.
Child, D., 2016. 'Demystifying Labour in Contemporary Art History: Unproductive Labour and Social Reproduction', Association of Art Historians Annual Conference 2016, University of Edinburgh, 7th-9th April 2016.
Child, D., 2015. 'Directors, Actors and Virtuosos: The performative shift in neoliberal social art practices', Historical Materialism Rome, Roma Tre University, Rome, 17th - 19th September 2015.
Child, D., 2014. ''From Labia to Labour: an alternative to the performed body in mid-1970s' feminist art'', 11th Annual Historical Materialism Conference 2014, UCL Vernon Campus, London, 6th-9th November 2014.
Child, D., 2014. ''Performing Action: the global theatre of art-activism'', Performing Protest: Re-Imagining the Good Life in Times of Crisis, University of Leuven, Belgium, 8-10th May 2014.