Professor David Crow
Dean of Faculty and Pro-Vice-Chancellor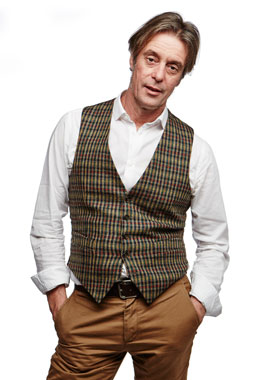 Professor David Crow is Pro-Vice-Chancellor for internal communications and Dean of the Faculty of Art and Design.

A former student of the communication media degree before the advent of computers or digital processes, David returned to MMU in the early nineties to complete an MA in Communication Design focusing on unofficial visual language systems. His industrial experience was gained in London where he worked on the design and production of various projects including books, brochures, packaging and promotional material. As a senior designer for Island Records, he was responsible for art direction and production and managed promotional and advertising campaigns for a variety of artists. Setting up his own studio as a freelance designer, his clients included Sony UK and USA, Virgin Records, Island Records and the Royal Shakespeare Company.

In 1993 he moved into HE as a Senior Lecturer in graphic design at University College Salford where he helped to write a new ambitious degree in design practice during what was a critical time for Salford as its course base moved away from FE. In 1995 he was appointed as Head of Graphic Arts at Liverpool John Moores University.

Professor Crow's research specialty is experimental typography, using font authoring software to generate systems of symbols, and as a practising artist he has produced and exhibited works in different media using animation, CD-ROMs and interactive and non-linear work. He has exhibited in the USA, Korea and Israel, as well as Europe, and most of his tours have been funded by industrial sponsorship from software and hardware companies and the British Council.

His first book, Visible Signs, published in 2003 by AVA, is an introduction to semiotics which was very well received by both students and teachers of Design. This was updated with a second edition in 2010. David has also published Left to Right, an exploration of the shift from Text to Image in Visual Culture. His work can also be found in publications about graphic design that illustrate his interest and expertise in typography and visual language systems. His work is featured in the recent publications The Typographic Experiment by Teal Triggs and No More Rules - Graphic Design and Postmodernism by Rick Poynor. David has also written for design publications such as Eye magazine and Creative Review.
Research
A selection of recent research outputs.
Exhibitions
Webb, J., 2011. Pairings, MMU Special Collections, Otter Gallery Chichester, Fairfield Mill, Cumbria, September 2010 -.
Crow, D., 2005. Fiffteen, Haus Der Culturen De Welt, Berlin, 18th May- 21st May 2005.
Crow, D., 2001. Typojanchi, Seoul Design Museum, Seoul, Korea.
Books
Crow, D., 2006. Left to Right - the cultural shift from words to pictures, AVA Publishing SA, Switzerland.
Crow, D., 2006. The Picture Book, AVA Academia.
Crow, D., 2005. EMBLEM - From Left to Right, A Reflective view of Digital Type Design from Inside UK Art Schools., Righton Press - MMU.
Crow, D., 2005. Visible Signs, Ahn Graphics Limited, Korea.
Crow, D., 2005. Visible Signs (Zeichen) - Eine Einfuhrung in die Semioik fur Grafikdesigner, Stiebner Verlag GmbH, Munich.
Crow, D., 2003. Visible Signs - An Introduction to Semiotics, AVA Academia.
Book Chapters
Crow, D., 2005. 'Saved by the Screen'. In Carey Jewitt, Theo van Leeuwen, Ron Scollon, Teal Triggs (eds.) Special Issue: The New Typography, 195 - 204, Sage Publications, London.
Crow, D., 2003. 'Opposition'. In Rick Poynor (eds.) No More Rules - Graphic Design and Postmoderism, Opposition, 159-163, Lawrence King.
Crow, D., 2003. 'The Typographic Experiment'. In Teal Triggs (eds.) The Typographic Experiment: Radical Innovation in Contemporary Type Design, Thames & Hudson Ltd.
Crow, D., 2002. 'Alphapeg, Dialogue'. In Nathan Gale (eds.) Type 1 Digital Type Design, 10 and 22, Lawrence King (Universe Publishing).
Bestley R, Noble I, Crow, D., 2001. 'Introduction and Measured Approaches'. In Up Against the Wall : International Poster Design, Measured Approaches, p.11 & pp.30-33, Rotovision SA, Switzerland.
Journal Articles
Crow, D., 2003. 'Reading Pictures', Creative Review, Volume 23 Issue 11, 54 - 57.
Presentations
Crow, D., 2005. 'Typo_Move', Onedotzero, ICA Galleries, London, 31st May 2005.
Crow, D., 2004. 'Personal Views', ESAD 2004 Conferencias De Sexta-Feira, School of Design, Porto, Portugal, 19th November 2004, in Book due for publication - November 2005, 1.