Janet Bezzant
MFA,
Postgraduate Programmes Co-ordinator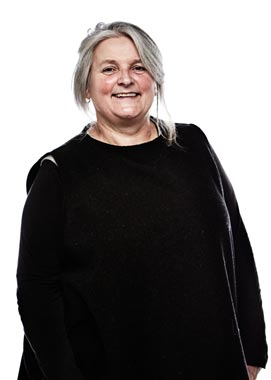 Janet Bezzant is the Co-ordinator of the Postgraduate Programme and has taught on BA and MA Textiles since 1991.

Janet Bezzant coordinates the postgraduate programme and contributes to the teaching of the MA Textile award. She earned a BA(hons) degree at Glasgow School of Art and an MFA in South Carolina USA.

Her research interests come from the field of textiles that informs installation and computation work, although the textile itself is often absent. Her practice looks at ways in which to examine relationships between physical and virtual objects and how these contexts impact on our perception and cognition. She is particularly interested in what role reflexivity plays in the mediation and methodology of process.

She has convened symposia on 'textile futures' involving contributions from Babara Layne, Joey Berzowska, Hilary Carlise and Linda Worbin. She has delivered papers on Craft in the Real and Digital World at the College Art Association Annual Conference and the North West Textiles Network. She has mounted installation exhibitions in the UK, USA and Europe.
Projects
Camera Obscura This is a proposal for an installation that transforms a gallery space into a camera obscura, and one that links this physical space to a text based virtual facsimile environment on the Internet created with MOO/MUD programming. The design of the Camera is dependant upon the architecture of the gallery. Details…
Dolls House/Mnemonic Introduction - Aims and Ideas This work aims to project the viewer into a dolls house space, and at the same time offers a facsimile of the space to explore and manipulate via keyboard and text. "Art that is no longer objects seems to indicate a reckless and dangerous encounter with the on-slought of cybernetics new forms - a means of destroying the dominance of object over subject and the eradication of the autonomy of objects. Details…
Introduction The enigma machine. A German code making machine, smuggled into Britain just before the second world war. Details…
Interactive project and installation of collected objects, digital images and a website. Details…
Textile Futures is an umbrella under which events and projects take place that investigate and disseminate current research into textiles and interactive technologies. Textiles futures has hosted two seminars with international speakers including Barbara Layne and Joey Berzowska of Hexagram, Montreal, Linda Melin of Play Research Labs, Sweden, and Dr. Details…
Research
A selection of recent research outputs.
Exhibitions
Bezzant, J., 2007. Objects, Internet @ Eresos, 13th July to 8th August.
Bezzant, J., 2001. 'Total Installation" Kabakov Class, Sommerakademie Fur Bildende Kunst, Salzburg, Austria, Hohensalzburg Fortress, 28th July 2001.
Bezzant, J., 1999. Cameras, Glassbox Gallery, Allerton Foyer, Salford University, 22/02/1999 - 19/03/1999.
Bezzant, J., 1999. 'The Dollshouse', online virtual interactive environment telnet://valette.aca.mmu.ac.uk:7777, online, ongoing.
Internet Publications
Bezzant, J., 2007. 'Why is once not enough? Repetition and reflexivity – from real to virtual', Repeatrepeat - http://www.cpara.co.uk, http://www.cpara.co.uk.
Journal Articles
Bezzant, J., 2008. 'sk-interfaces', Textile Journal of Cloth and Culture, Volume 6 issue 3.
Presentations
Bezzant, J., 2001. 'reflexive textile - subject/object, craft in the Real and Digital World', College Art Association Annual Conference, Chicago Hilton Hotel, tbc, in tbc.
Bezzant, J., 2000. 'reflexive textile - investigating the subject/object', Northwest textiles conference, Whitworth Gallery, tbc, in tbc.
Bezzant, J., 1999. 'Digital Divas: between the sheets', ISEA, MMU, tbc.
Other Outputs
Bezzant, J., 2005. 'Textile Futures', An Evening about Wearable Technology.
Bezzant, J., 2003. 'Textile Futures', syposium, four international speakers.