Lesley Raven
Programme Leader BA (Hons) Fashion Art Direction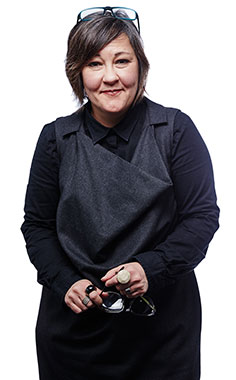 Lesley joined MMU in July 2015. Prior to this she was a lecturer and freelance consultant in London for over twenty years. She has wide-ranging experience in Higher Education art and design and extensive knowledge of Outreach and Widening Participation. She has managed and directed wide-ranging projects with industry and community partners.

Lesley's knowledge and experience spans art and design, education and healthcare with a Bachelor of Design from Duncan of Jordanstone College of Art, a Masters from the Royal College of Art, a Post-graduate Diploma in Occupational Therapy and a PGCE in Post-compulsory education. She is a doctorate researcher at Staffordshire University investigating pedagogies of reflective practice towards improving employability within the creative industries.

Lesley's creative practice is located in fashion and textiles. She has designed and curated numerous conceptual artworks and interventions for public display and is an artist associate member of Suite Studio Group, Salford.

Lesley is a member of the Society for Research into Higher Education.

Additional to Programme Leadership, since Jan 2018 Lesley became Co-Lead for Unit X with Dave Evans, Senior Lecturer in Fine Art.
Projects
2013 University of the Arts London (UAL) Sustainability Award, in partnership with St. Joseph's Hospice Hackney, LCF BA (Hons) Bespoke Tailoring students and Hackney schools. Details…
2013 University of the Arts London (UAL) Centre for Learning and Teaching (CLTaD) Curriculum Development Award. The project used an ecological model of practice involving LCF post-graduate and undergraduate students and Hackney schools, families and small businesses to promote fashion sustainability awareness, higher education progression, knowledge-skills-exchange between HE, local businesses and schools and inter-discipline exchange between post-graduate and under-graduate students. Details…
2013 University of the Arts London (UAL) Teaching & Professional Fellowship Award undertaken by Lesley Raven, London College of Fashion, and Darren Raven, London College of Communication.. Details…
2017 An interactive workshop facilitated by academics from the Manchester School of Art: Kirsteen Aubrey, Dr Alice Kettle and Lesley Raven. Participants used paper to reflect on making, materials and how their own craft practice's distinctive characteristics and attributes can address, inform, challenge or bring solutions to social challenges, environmental issues and benefit our health and wellbeing. Details…
Forum chair and facilitator of interactive reflective practice, sponsored by GF Smith paper. This work informs doctorate research into increased understanding of reflection to support professional development. Details…
2013 A collaborative consultancy with James Blaze, architect, Vicky Cave, Children's Museum London, and the Bromley-by-Bow Centre to co-create a interactive cultural space for the local community.. Details…
Research
A selection of recent research outputs.
Exhibitions
Raven, L., 2017. Intersections exploring collaboration in textile design research, Loughborough University in London, 13/9/2017.
Raven, L., 2017. Made in Translation, Portico Library, 27/4/2017.
Raven, L., 2017. Suite@Horsfall, Horsfall Gallery, Ancoats. Manchester, 6/7/2017.
Lesley Raven, Sandro Migliarini and Emma Hardicker, 2013. OH3 nature, plants and gardens, Oxford House Gallery, London, 7 May - 25 June 2013.
Group show, 2013. The Emperor's New Clothes, The Portico Gallery, London, December- January 2013.
Kit Boyd, Amanda Bracken, Andrew Cooper, Fabia Claris, Debbie Perks, Lesley Raven, Eva Rudlinger, Guy Shoham, Juliet Walker, Andrea Carr and Angelica Fernando., 2010. Flock Together, Brixton Village, 2010.
Journal Articles
Groppel-Wegener, A., Raven, L., Bowstead, H., Vigurs, K, and Walton, G., 2015. 'Exploring 'academic depth' in Higher Education. A collaborative evaluation of a visual method for facilitating information discernment for HE students from varied disciplines.', Innovative Practice in Higher Education, 2 (2), 1-20.
Presentations
Raven, L., 2016. 'Investigating the theory and practice of 'meta reflection': developing skills for higher-order thinking to enhance how learning is processed and organised.', Staffordshire University.
Groppel-Wegener, A., Vigurs, K and Raven, L., 2014. 'Hunting seamonsters - How to bust the ghosts of hidden academic practice', Higher Education Academy Arts & Humanities Conference: Heroes and monsters: extra-ordinary tales of learning and teaching in the arts and humanities, The Lowry, Manchester., 2 - 4 June 2014.
Raven, L., 2014. 'Placements in Arts and Design', Employability, Enterprise and Work-based Learning Network. Why do Internships and Placements matter? Further sharing of current research, Society for Research into Higher Education. London, 2 May 2014, in SRHE.
Raven, L. and Raven, D., 2013. 'Key skills and experiences to support art and design Higher Education learning and employability', Society for Research into Higher Education Annual Conference, Celtic Manor, Newport, Wales., 11-13 December 2013.
Raven, D. and Raven, L., 2013. 'Learning and Assessment within Work-based Placement Reports', Learning and Teaching Day 2013 Accessible Learning Accessible Assessment, University of the Arts London. London College of Fashion., 16 January 2013.
Raven, L., 2013. 'Learning from the Learners', Employability in the Curriculum, Southampton Solent University.
Raven, L., 2013. 'Learning from the Learners', Employability in the Curriculum, University of West London.
Raven, L., 2006. 'Does an understanding of play and flow lead to greater understanding of creativity and leisure in Occupational Therapy?', London Region College of Occupational Therapy Conference, London South Bank University, September 2006.