Paul Proctor
Senior Lecturer
Photography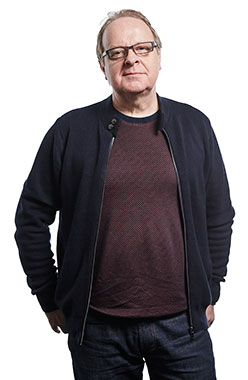 Paul is a photographer and academic with over 30 years experience as an educator in the subject. With many years of academic experience in art and design pedagogy and in art and design management and leadership, Paul has developed an extensive track record of undergraduate and postgraduate curriculum development. He has held external examinerships and advisory roles in the UK for over 15 years.

Paul is currently first year tutor for the BA (Hons) Photography programme in the School of Art and is also admission tutor. He has a broad range of experience in UK Higher Education Institutions including roles in Quality Management and as Assistant Dean, Arts, Design & Media.

Interested in the notion of the 'trick', Paul's research uses cutting edge 3D software to make photographic images of objects that he creates entirely through modeling and simulation performed in the 3D virtual environment of the computer. He has exhibited his work both nationally and internationally. Through the investigation of this interest, Paul has developed a specialism in perception as expressed through the theories of New Materialisms, Phenomenology, Gestalt and Technicity.

In addition to his MA in Photographic Studies (University of Derby, 1994), Paul also holds postgraduate qualifications in Art and Design in Education (Institute of Education, University of London 2009) and Advanced Teaching and Learning (Oxford Brookes University, 2005). He is currently studying for a PhD that asks, 'How can photography be performed through a digital three-dimensional architecture?
Research
A selection of recent research outputs.
Artefacts
Proctor, P., 2016. 'Beyond the Camera, Pingyao International Photography Festival, China.', Pingyao, Shanxi Province, China.
Non-Peer Reviewed Articles
Proctor, PA., 2015. 'Photographs as Agents of History', Verioa, Greece, ??????????? ??????? (???.- ???. 2015) (59), pp. 21-24.