Richard Page
Programme Leader, BA (Hons) Photography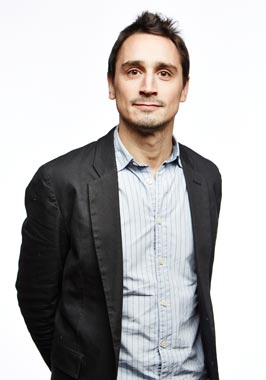 Richard Page is a photographic artist and Programme Leader of BA (Hons) Photography at Manchester Metropolitan University. He received the Jerwood Photography Award in 2004, and his artist's monograph 'What We Already Know' was published by Ffotogallery in 2007. Employing a variety of approaches, his work considers how space is implicitly bound up with history, memory, and our psychological relationship with place.

Richard has exhibited widely thoughout the UK and abroad, including shows in London, Cardiff and Germany. His work featured as part of 'Diffusion: The Cardiff international Festival of Photography' in 2013, for which he also curated and edited the exhibition and publication 'From Common Differences'. His work has been published in Portfolio magazine, the Guardian, Source, Art Review, Artists Newsletter and Royal Academy magazines. Most recently, his work was featured in the book 'Perspectives on Place' by JAP Alexander (London: Bloomsbury, 2015). Richard is currently working on a documentary project in central Spain, 'The Dialogue of the Dogs', which has been shown in a solo exhibition at the Francesca Maffeo Gallery in January/February 2017. The exhibition was featured in The Guardian, Paper Journal, Wallpaper magazine and Internazionale.
Research
Richard Page is a member of:
A selection of recent research outputs.
Exhibitions
Page, R., 2017. The Dialogue of the Dogs, The Francesca Maffeo Gallery, 13/1/2017 - 25/2/2017.
Page, R., 2016. Process, Bankley Gallery, May - June 2016.
Page, R., 2015. Still Moving, Vertical Gallery, Manchester School of Art, April 2015.
Page, R., 2013. From Common Differences, Diffusion: The Cardiff International Festival of Photography, 1st May - 31st May.
Page, R., 2007. What We Already Know, Ffotogallery, Cardiff, 7th January - 16th February.
Books
Page, R., Duerinckx, P., Gane. H., 2013. 'From Common Differences', Swansea: Swansea Metropolitan University.
Page, R., 2007. 'What We Already Know', Cardiff: Ffotogallery.
Book Chapters
Page, R., 2014. 'The Perfect Distance'. In Moule, R. (eds.) Ryan Moule: Latent Frequencies, London: Bookworks.
Page, R., 2013. 'Suburban Exposure'. In Chalmers, G., Barnes, M., (eds.) New Light - The Jerwood Photography Awards, 2003 - 2009, Edinburgh: Portfolio.
Page, R., 2008. 'What We Already Know'. In Cocks, M., Evans, JP. (eds.) Unreliable Truths: Illusion and Transformation in Contemporary Photography, Swansea: Glynn Vivian Art Gallery.
Journal Articles
Page, R., 2014. 'The Black Box: European Documentary Photography', Darwin Magazine, Vol 6.
Page, R., 2009. 'Roni Horn's Iceland - To see a landscape as it is when I am not there', Blown - Cultural Intelligence, Vol. 1/ Issue 1., pp. 21-25.
Presentations
Page, R., 2017. 'Breaking New Ground: Photography in the Digital Age', Future Now : Aesthetica Symposium, York University, 26 May 2016.