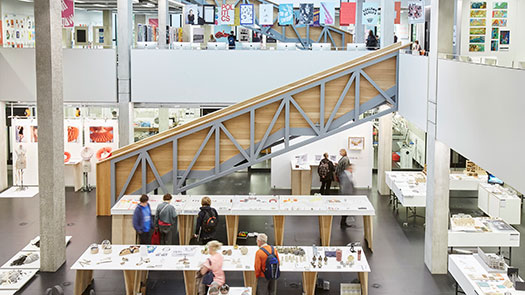 Degree Show
Information for Schools
We welcome visits by school and college groups to the Degree Show.
Our annual Degree Show celebrates the achievements and talents of final year students at Manchester School of Art. The Degree Show is open to all although we kindly ask schools book beforehand to allow us to keep track of who is on campus and prepare enough materials for all our guests!
Schools have the option of independent self-guided visits and engaged visits (Interrogate the Art School).
Guidance
You and your pupils are welcome to—
Talk to our students about their work and what it's like to study at Manchester School of Art.
Visit the School of Art café for refreshments or snacks.
Ask our reception staff if you need any help with directions.
But please take care near the work on display. Our students have been working hard for three years to produce their work and it is very precious to them. Look as much as you like, but please don't touch! Thanks.
And check with the nearest student invigilator before taking photographs of any work.
Safety
All exhibits are checked and where appropriate a written risk assessment constructed. Where risks are noted the risk assessment will be available with the exhibit.
The University buildings are not designed to accommodate children under 12 years of age, so it is important your pupils are supervised at all times by staff accompanying the party, especially on stairwells. Risk Assessments for the individual buildings can be downloaded here .
Also see our Generic Risk Assessment for School Visits
Access & Parking
We recommend that you use the Benzie Building entrance on Boundary Street West to access the Show.
Disabled access is good to all buildings with the exception of Grosvenor which because of its age has access only to the ground floor via the Benzie and Chatham buildings. For further details see our building access maps.
There is no official coach parking available on the All Saints campus. Ormond Street or Cambridge Street can be used for drop-offs. We recommend using the Hulme Street Car Park for parking minibuses.