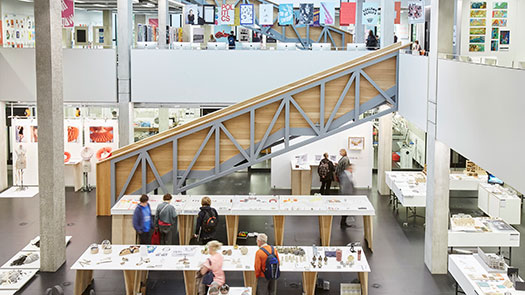 Degree Show 2019
Information for Schools
We welcome visits by school and college groups to the Degree Show.
Our annual Degree Show celebrates the achievements and talents of final year students at Manchester School of Art. The Degree Show is open to all although we kindly ask schools book beforehand to allow us to keep track of who is on campus and prepare enough materials for all our guests!
Schools have the option of independent self-guided visits and engaged visits (Interrogate the Art School).
Independent Visits
The Degree Show is open to the public from 8 June until 19 June 2019, 10am–6pm (10am–4pm Sat/Sun)
Please be aware that we have an undergraduate open day on Wednesday 19 June which will make campus extremely busy on that day.
For independent self-guided visits, please return the independent booking form below to hlssschools@mmu.ac.uk by 5pm on Tuesday 4 June 2019.
Interrogate the Art School
Everything starts from something.
Interrogate the Art School invites schools and colleges to discover the Degree Show 2019 through explorations of the sometimes hidden stories within our graduate's final work. Working closely with current students, young people will be challenged to interrogate what they see, dig deeper, and discover interesting narratives behind the works on display and discover the personal journeys of our graduating cohort — everything starts with something, how did they get here?
Bring a notebook and we will provide an engaging creative toolkit to support creative curiosity, and develop communication and observational skills.
Dates
10 June – 18 June 2019 (excluding weekends)
Times
Workshops are 2 hours long and slots are available at 10am–12noon and 12noon–2pm.
How to Book
Our workshops are delivered free of charge.
Places are limited to a maximum of 35 pupils per group.
Please complete the engaged booking form below and return to hlssschools@mmu.ac.uk by 5pm on 4 June 2019.
Please bear in mind places are subject to availability.
Guidance
You and your pupils are welcome to—
Talk to our students about their work and what it's like to study at Manchester School of Art.
Visit the School of Art café for refreshments or snacks.
Ask our reception staff if you need any help with directions.
But please take care near the work on display. Our students have been working hard for three years to produce their work and it is very precious to them. Look as much as you like, but please don't touch! Thanks.
And check with the nearest student invigilator before taking photographs of any work.
Safety
All exhibits are checked and where appropriate a written risk assessment constructed. Where risks are noted the risk assessment will be available with the exhibit.
The University buildings are not designed to accommodate children under 12 years of age, so it is important your pupils are supervised at all times by staff accompanying the party, especially on stairwells. Risk Assessments for the individual buildings can be downloaded here .
Also see our Generic Risk Assessment for School Visits
Access & Parking
We recommend that you use the Benzie Building entrance on Boundary Street West to access the Show.
Disabled access is good to all buildings with the exception of Grosvenor which because of its age has access only to the ground floor via the Benzie and Chatham buildings. For further details see our building access maps.
There is no official coach parking available on the All Saints campus. Ormond Street or Cambridge Street can be used for drop-offs. We recomend using the Hulme Street Car Park for parking minibuses.