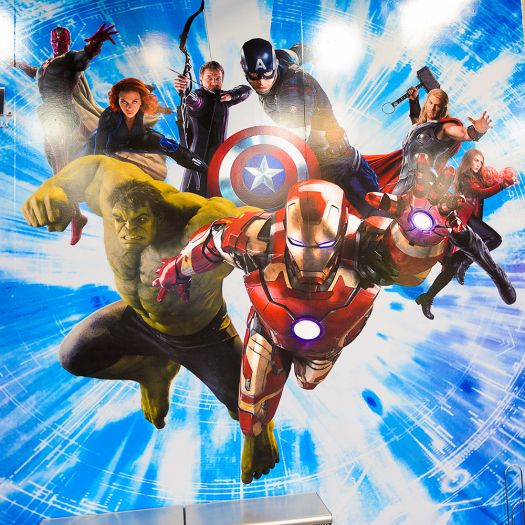 Old franchise, new heroes: how Avengers Endgame marks a cultural shift
26 April 2019
Superheroes have come a long way in the last ten years, writes Dr Joan Ormrod
By Dr Joan Ormrod
Senior Lecturer in Film and Media Studies
The superhero, like the vampire, is a mirror that reflects cultural concerns at a given moment in history. At this given moment Avengers: Endgame, the last film of the Marvel Extended Universe (MEU), marks the end of an ambitious project that began in 2008.
The 11 years between the first film in the MEU and 2019, audiences have been thrilled with the introduction of characters – from the famous to virtually unknown – that included Iron Man, Captain America, the Hulk, and the Guardians of the Galaxy, to name but a few. The franchise also spans the development of global corporations and new media technologies, with computer-generated imagery bringing these characters to life across comics, video games, television series and films.
Since the franchise began with Robert Downey Jr's charismatic depiction of Iron Man, there has been a gradual move away from what might be regarded as traditional white male heroes to more diverse types of heroism. The sea change in heroic characterisation began with the success of competitor DC's Wonder Woman (2017) which made in excess of $800 million worldwide. The film drew praise from Kevin Feige, President of Marvel Studios, and it is significant that from 2017 Marvel began to feature more diverse characterisation including Black Panther (2018), Captain Marvel (2019) and Spider-Man: Into the Spider-Verse (2019). These films mark the start of a new phase in the MEU and they deal with issues of identity politics, particularly gender and race.
These films are lucrative. Black Panther made in excess of $1 billion. Captain Marvel has made $800m globally to date. This success is not limited to Marvel. DC already has another Wonder Woman film in development. Their latest film Shazam! (2019) deals with a 14-year-old boy who becomes a superhero when he yells "Shazam!" and has already made $324m.
The Avengers: Endgame trailer
It is, of course, possible to regard this change as cynical profiteering, but these positive images could signal a new direction inspiring more harmony. These new types of hero have refreshed the superhero genre. They appeal to less traditional audiences, such as women, young girls, black people and LGBTQ communities who, hitherto, felt that superheroes did not describe their life experiences. Captain Marvel and Black Panther's authenticity rests in their marketing to these groups and they are directed by female or African American directors, Anna Boden and Ryan Coogler respectively.
This makes a difference in the ways the characters are represented. Captain Marvel, for instance, does not wear the provocative revealing costume of the female superhero. Instead, she is clothed in a battle uniform from head to toe. Likewise, the black culture, technology and strong women of Wakanda give us something to which we can aspire.
These newer representations responded to the voices of groups who may have been ignored in increasingly polarised cultures.
Gender groups voiced their discontent, from the #MeToo campaigns to transgender debates. And while there was the rise of racist rhetoric and anti-immigration issues in the policies of Donald Trump and in the Brexit referendum, the rise of black and strong female superheroes provided a positive counterpoint and marked a shift from the traditional white male heroes, who were often regarded as representing Western culture.
Representation matters. Positive images of disabled, female and black characters give us a stake in our culture – and just maybe show us that we can work together.