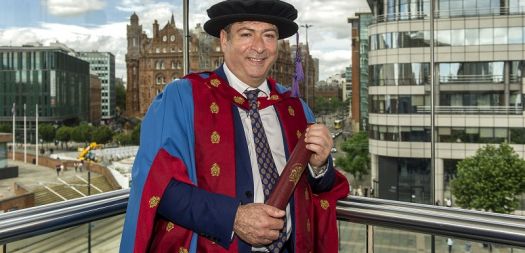 23 July 2019
International artist, academic and author awarded honorary Doctorate of Art
Professor Bashir Makhoul recognised for his significant contribution to the arts and arts education
International contemporary artist, academic and author Professor Bashir Makhoul has received an honorary doctorate from Manchester Metropolitan University.
Prof Makhoul, now Vice-Chancellor of the University of the Creative Arts, completed his masters degree and his PhD studies at the University in the mid-1990s thanks to scholarships and in doing so became the University's first practice-based PhD student, designing some of the street furniture and a logo for a shopping district in Rusholme that still stand today.
Global success
He has enjoyed an outstanding career as a fine artist, academic and editor, with celebrated work and installations shown at a wide range of prestigious venues and events across the globe including the Venice Biennale, known as the world's largest art exhibition, London's Hayward Gallery, and at galleries in Jerusalem, Liverpool and Beirut.
In being appointed Vice-Chancellor of the University of the Creative Arts in 2017, Prof Makhoul became the first academic from a Palestinian background to hold the top position at a British university.
He returned to Manchester on Monday to accept his Doctorate of Arts awarded "in recognition of his significant contribution to the arts and arts education and his commitment to empower students from all cultures and backgrounds to make a global contribution to their field".
Passion for creativity
Prof Makhoul told the humanities graduates at a graduation ceremony at Manchester's Bridgewater Hall: "I'm honoured and delighted to be receiving an honorary doctorate.
"It is great to be back in Manchester: it feels great, energised and still the same as I left it a number of years ago.
"Manchester Metropolitan University played a key part in my journey from a tiny village in Palestine to becoming the first ever Arab to become a Vice-Chancellor of a British university.
"I was fortunate enough to have teachers who recognised a genuine passion for creativity and a commitment to make art that transcends cultural boundaries.
"I will forever be grateful for all that the University has given me, and for the doors that were opened for me."
Embrace challenges
Prof Makhoul said creative talent can be found in people from all backgrounds and cultures, and that society as a whole will always benefit when this talent is properly nurtured – pointing out that the thriving creative industry in the UK is worth £92 billion alone.
He advised the new graduates to be ready to embrace challenges and seize opportunities with an open mind.
The honorary doctor reminded them that "success is not a destination, it is a journey", meaning they should continue to develop, learn and raise their expectations.
Shaping arts education
Professor Tim Brennan, Head of Art and Professor of Art, who introduced Prof Makhoul for the honorary degree, extolled the professor's ever-incisive work and the way it constantly challenges us to ask questions about our collective and individual selves.
Prof Brennan said: "Bashir has been instrumental to the shaping of a 21st Century arts education that meets the internationalised expectations of students and disciplines.
"Manchester Metropolitan University is incredibly proud in featuring in Bashir's academic journey.
"We hold all of our alumni dear and among them Bashir is a beacon of international success, creativity, leadership and, above all, humility."