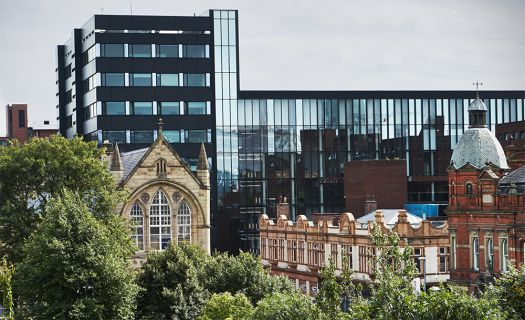 New for 2020
4 November 2019
New Postgraduate courses across Art & Performance, Design and Media
Postgraduate study provides students with the opportunity to further develop their practise and interests, with the support of specialist tutors who are also practising artists, designers and researchers
As such, we are pleased to announce a new suite of postgraduate courses across Art and Performance, Design and Media, that will equip students with all the skills needed to excel in the creative industries.
MA Arts, Health and Social Change
"Greater Manchester is a global heartland of arts, health and social change – inspiring new ways of thinking, being and doing – with culture offering compelling ways of addressing societal concerns" (The Manchester Declaration, 2019)
The Arts for Health initiative at Manchester Metropolitan University, spearheaded by Dr Clive Parkinson, is the longest-running organisation of its kind, and benefits from strong links to the GMCA, Manchester City Council and the NHS. The MA in Arts, Health and Social Change will build upon these strengths, allowing students to learn from leaders in the field within the context of research and practice.
Underpinned by the values set out in The Manchester Declaration, the course will foster an understanding of the impact of creativity, culture and the arts on public health and well-being – allowing students to propel their careers in a fast-developing field. Find out more about the course here.
MA Design Innovation
A unique course that considers how design acts as a catalyst that leads to new products, services and user experiences. Students will be equipped with new thinking approaches that allow them to address contemporary issues affecting society and business, whilst learning how design can be implemented to solve complex problems in a global market. The course is led by Professor Martyn Evans, head of Manchester School of Art's Research Centre and design academic with over 20 years of experience in research, teaching and leadership.
As the fastest-growing creative industry sector outside of London, Manchester provides significant opportunities for students to engage with practitioners, companies and public organisations. Our MA Design Innovation will combine theory and practice to produce graduates who understand how to blend commercial and material concerns in order to provide user-focused solutions. Find out more about studying MA Design Innovation here.
MA/MFA Contemporary Performance
Aimed at graduates and artists working across dance, performance and theatre, the MA/MFA Contemporary Performance will promote the development of innovative and professionally sustainable performance practice. The course offers practical and theoretical study into the making of performance and the role of the performer as maker.
Led by Dr Anna Macdonald, a team of established practitioners, curators and academics with links to and expertise in European theatre and dance will deliver the course, which culminates in a major supervised individual project. Find out more about MA study at the Manchester School of Theatre here.
MA Music and Sound for Media
Led by composer, sound designer and technologist Dr Ben Challis, our new MA in Music and Sound for Media will equip students with a comprehensive understanding of high-level technical theory, alongside key skills in composition, sound design and production.
Graduates will emerge ready to create immersive, interactive and responsive music and sound for a number of environments, whilst benefiting from the School of Art's diverse network of external partners, including Manchester's City and regional galleries, HOME and the BBC at Media City. Find out more here.
You can learn more about Postgraduate study at our next Open Days on Wednesday 19th February and 13th May 2020. You can also explore our site for information on How to Apply, Finance, and Life as a Postgraduate Student.