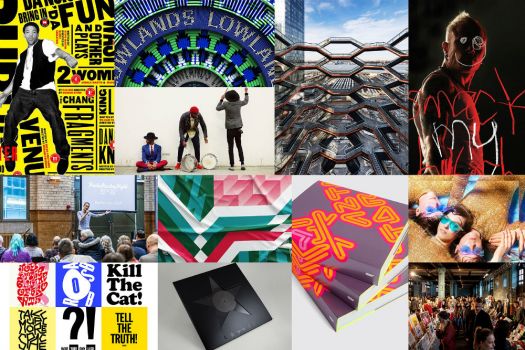 School of Art creativity at heart of Design Manchester
13 November 2019
Annual city-wide festival champions art, design, media and architecture
Manchester School of Art is proudly supporting this year's Design Manchester – the city-wide festival of creativity and design.
Two fascinating graphic design exhibitions will be hosted at Manchester Metropolitan as part of DM19 (November 11-24), as well as a thought-provoking public debate on what constitutes a liveable city.
Future urban design challenges are key themes of DM19, with the University's Manchester School of Architecture supporting a three-day conference exploring how cities can become better places to live, work and play as well as increase quality of life for everyone. Design students from the School of Art and Hong Kong Design Institute will also exhibit their creative interpretations of the 'ideal city' created in partnership with the Design Council.
Design Manchester's annual festival celebrates collaboration and inclusivity in design, producing events with that champion design, art, architecture, digital, illustration, film, animation, photography and music.
It was established in 2013 with the support of Manchester School of Art, celebrating the 175th anniversary of Manchester School of Art and timed to coincide with the official opening of the Benzie Building.
Design city
Joe McCullagh, Head of the Department of Design at Manchester School of Art, Manchester Metropolitan University, said: "We have been a sponsor of Design Manchester since its inception. We recognise the need to engage with industry but also our communities and show how important design is to our city, our environment and our everyday lives.
"The festival celebrates and advocates the importance of design and creativity. We are actively involved in a number of events at the festival where we work to collaborate purposefully with local, national and international partners, so we can see how design can be transformational and learn and share with each other.
"Manchester is one of the world's great design cities and we place ourselves at this centre. Design Manchester and Design at Manchester Met is about place and how we celebrate design locally to globally and the events at the festival brilliantly highlight this amazing work."
Collaboration
Design Manchester Director Kasper de Graaf said: "Design is central to Manchester's industrial heritage and to creating a successful, inclusive and sustainable future. That story is embodied by Manchester School of Art, founded to support the industrial revolution with skills in textile design, and today powering the green and digital revolution with advanced materials design and the upcoming launch of the School of Digital Arts.
"This year we embark with our partners on building an international dialogue about the role of design in 21st century cities. Our partnership with Manchester School of Art will help us make a world-class contribution to that dialogue, rooted in the heritage of the city."
Highlights of DM19 events involving Manchester Metropolitan staff and students include:
Dozens of other public events are taking place at DM19 across Manchester, with last year's festival attracting close to 75,000 attendees, including designers, artists, creative professionals, students, businesses, policymakers, public institutions and the community