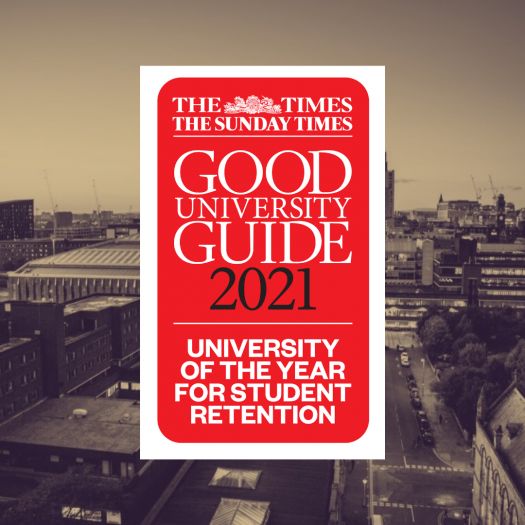 Manchester Met named The Sunday Times University of the Year for Student Retention
18 September 2020
Award recognises University's support in helping students to fulfil their potential
Manchester Metropolitan University has been named The Sunday Times University of the Year for Student Retention.
The award recognises the University's success in supporting students to achieve their ambition and successfully completing their studies through to graduation.
It forms part of the annual Sunday Times Good University Guide which is published online today (September 18) and in the special newspaper edition on Sunday (September 20).
Manchester Metropolitan has a range of initiatives to ensure its 34,000 students can fulfil their potential while at the University, recognising there is no one-size-fits-all approach to supporting students.
Develop and inspire
Professor Malcolm Press, Vice-Chancellor of Manchester Metropolitan University, said: "I am delighted that this award recognises the commitment and hard work of our students, many of whom are the first in their family to attend university, and the dedicated effort of staff throughout Manchester Metropolitan University to develop and inspire them.
"Every student we retain is someone we can support to realise their dreams and aim for future success. We are already delivering new, innovative programmes that I am confident will ensure we build on this performance to see even more students succeed and prosper in future."
Alastair McCall, editor of The Sunday Times Good University Guide, added: "Manchester Metropolitan's success as this year's University of the Year for Student Retention is unprecedented. It is very hard for large institutions to perform well on degree completion rates, doubly so for socially inclusive ones which by definition admit students with a higher risk of dropping out.
"For Manchester Met to win our award is an acknowledgement of its success in getting hundreds of students each year through to graduation who would have probably dropped out if they studied elsewhere. That is a personal triumph for the students concerned and a significant financial achievement in avoiding the wasting of money by the government and students alike that goes hand in hand with a student dropping out."
Student support
The University focuses on supporting students around a number of important factors that influence retention and progression, but crucially they will help to influence the life-long success and wellbeing of students.
This includes the development of a Peer Assisted Learning scheme to support academic achievement and collaborative working, improved support for mental health and wellbeing, and the tracking of attendance and engagement to identify students if they start to struggle and to then offer appropriate help.
Additionally, there has been investment in academic skills tutoring, embedded at the programme level where it builds students' confidence and sense of belonging.
The University has also reviewed all its programmes to make sure it builds upon the previous learning experience of students, there is an inclusive approach to learning, and ensuring that assessment support and feedback is built in to academic delivery.
Professor Helen Laville, Pro-Vice-Chancellor for Education at Manchester Metropolitan, said: "We take a student-centred, holistic approach to supporting success across multiple areas. Mental wellbeing, academic achievement, and career planning are interconnected in the lives of our students, and we want to make sure that our institutional support reflects this."