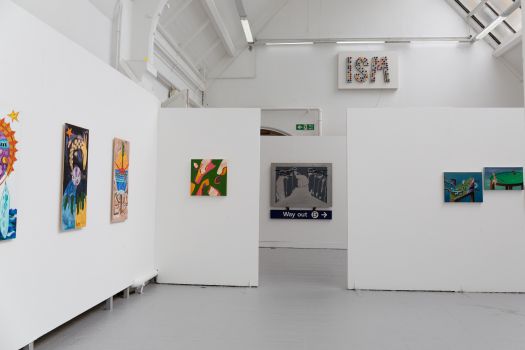 Freelands Painting Fellowship now open for applications
2 November 2020
A new scholarship for alumni of our BA Fine art course
Manchester School of Art is pleased to announce its participation in the first Freelands Painting Fellowship.
Alumni of BA Fine Art from Manchester School of Art, who graduated at least 3 years ago (July 2017) and have maintained a painting practice since, are invited to apply. The fellowships will run from January to December 2021.
The successful candidate will be hosted at either The Bath School of Art or The University of Brighton, School of Art.
The successful applicant will receive:
• £20,000 honorarium to support living costs and materials
• A studio space onsite at the host university
• Support from an experienced member of the Fine Art teaching staff
• Experience of working with Fine Art students at undergraduate and postgraduate level
• A solo exhibition at the host university or a partner institution
• A group exhibition at the Freelands Foundation Gallery, London
• Access to workshops and fabrication spaces
Please visit our scholarship pages to learn more about the Fellowship and how to apply. Applications close on November 13th.
Dr Magnus Quaife, Senior Lecturer is delighted that we can offer this opportunity to our alumni:
"The Freelands Painting Fellowship offers an incredible opportunity for a graduate of Manchester School of Art to have the time and space to focus on their practice without financial pressure for a year. We know that after graduation it can be challenging to maintain the creative intensity that students are able to achieve during their degree. The offer of a studio and considerable financial support together with mentioning and the chance to gain teaching experience and exhibit work makes this a unique opportunity to develop as an artist. We are also looking forward to welcoming and working with a Freelands Painting Fellow from Bath or Brighton and we are honoured to be one of the first three institutions to be involved in the scheme."
The Freelands Foundation was set up in 2015 to give an increased number of people the chance to engage with and enjoy the arts in the UK, with a particular focus on education.
Their ambition is to give everyone access to a creative and cultural education in the belief that it raises their aspirations and transforms their opportunities in life.
The Foundation's aim is to do this in three ways: by advancing education to enable everyone, regardless of background or location, to take part in the creation and enjoyment of art; by empowering artists and arts organisations across the breadth of the UK to expand their reach in their communities; and by commissioning research that explores the value that art and culture bring to society.