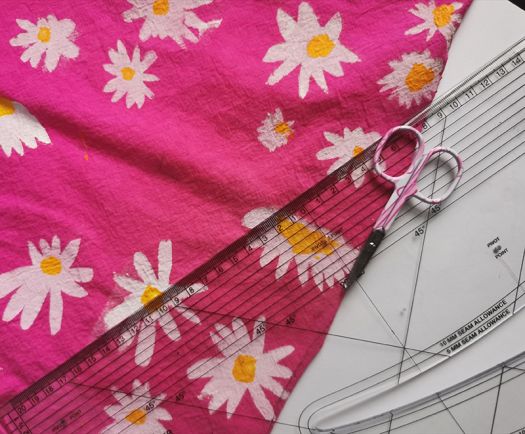 Textiles in Practice alumna collaborates with young artist on dress design project
17 December 2020
Eloise Pierce volunteered her time with Venture Arts during lockdown
A recent Textiles in Practice graduate has collaborated with a young, 12-year-old artist on a design project during lockdown to help create her dream dress.
Eloise Pierce was approached by Venture Arts, a Manchester based visual arts charity, to collaborate with them as part of their Young People's Art Club, funded by BBC Children in Need.
Young People's Art Club run workshops for learning disabled children and young people aged 8 – 25. Young artists have the opportunity to experiment and explore a variety of creative skills.
In her final collection at Manchester Metropolitan, Pierce explored tactility and sensory elements within garments and multifunctional design, to increase the touch and visible qualities of products for the partially sighted.
Since graduating, she has continued to explore sensory wear working on a project with RNIB and has gone on to create her own sensory sportswear.
Despite their studio being closed, Venture Arts have worked closely with artists to deliver online projects that are fully accessible and designed for individuals, tailoring their interests and nurturing their talents.
During the first lockdown, one of their youngest artists, 12 year old Laura, worked online with her artist tutor to explore her passion for fashion, designing her own printed fabric and dress designs.
Pierce volunteered her time to work closely with Laura, getting to know her in online sessions and finding out more about her ideas to create her own dress.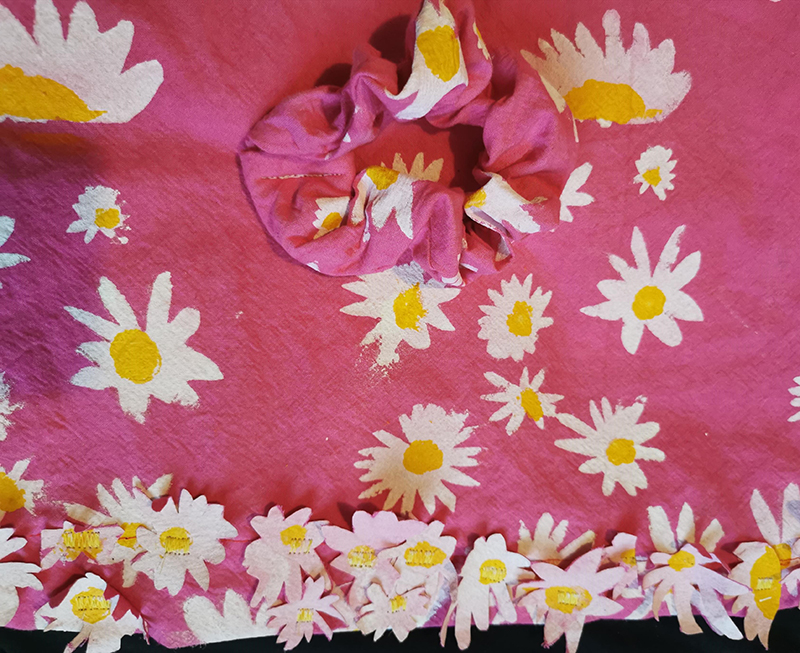 Using the fabric that Laura had designed, dyed and hand printed herself, Pierce then created the dress bringing Laura's designs to life.
Pierce said: "Throughout my time at Manchester School of Art I took part in many creative collaborative projects which I really enjoyed. I love working creatively with a range of people so I was delighted to be asked to get involved.
"As a graduate I was really grateful to be able to work with Laura and Venture Arts especially in such bizarre circumstances. Laura's print design was really fun to work with, it lights up any room and I loved the bold pink, so being able to turn her printed textiles and fashion design into a dress was a really uplifting experience that I could throw myself into."
Dr Lynn Setterington, Senior Lecturer in Textiles in Practice, said: "Eloise was an exemplary Textiles in Practice student who graduated in 2020. She has great skills and understanding and so when a fashion-focused initiative with Venture Arts came to my attention, she immediately came to mind.For her degree show portfolio last year, Eloise explored and tested ideas of sportswear for the visually impaired. I knew she was empathetic and would be the perfect person to work on this partnership project."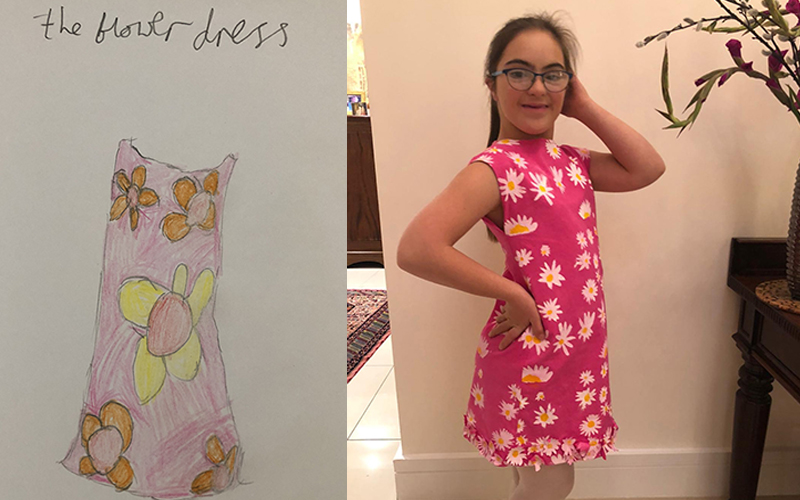 Katherine Long, Artistic Manager at Venture Arts said: "At Venture Arts we pride ourselves on supporting artists to achieve high quality artwork, catering to each individual artists needs and ambitions and we weren't going to let lockdown stop us! We had wanted someone to collaborate with Laura to bring the dress to life and were so pleased when Eloise came forward! This was a new way of working for us and we needed someone who would be sensitive to Laura's design and create a high quality product.
"Eloise was fantastic from start to finish! She met Laura on Zoom and showed her past work and explained how she would make the dress. Laura was really pleased to work with another artist and was so happy with the finished product, she couldn't stop smiling when she wore it. We hope to exhibit the dress next year in a Venture Arts exhibition and that the two will meet when our studio is back up and running."