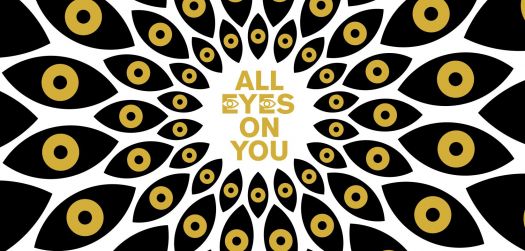 'All Eyes On You' end-of-year digital showcase launches June 17th
9 June 2021
The show highlights final-year students across Art, Design and Media
Manchester School of Art at Manchester Metropolitan University launches its 2021 end-of-year digital exhibition on June 17th at 5.30pm, celebrating the achievements of our graduating classes across art, design, media and performance.
The event will launch with an exclusive event featuring artists Es Devlin OBE and Yinka Ilori in conversation with writer and broadcaster Miranda Sawyer. Devlin, an Olivier Award-winner and Royal Designer for Industry, has worked on a range of projects across art, opera, music and technology, including the closing ceremony for the London 2012 Olympics. Ilori is a multidisciplinary artist who fuses his British and Nigerian heritage into provocative and playful furniture, and has exhibited his work across Europe, Africa and North America. The pair collaborated together recently for the Brit Awards stage and trophy. Writer Miranda Sawyer started her career writing for Smash Hits, and her writing has appeared in Vogue, GQ and the Guardian. She is now a radio critic and feature writer for The Observer.
Each year, a different Manchester School of Art alumni is invited to design the visual identity for that year's show. Our 2021 branding has been created by design studio Rice and Gold, made up of 2008 Design and Art Direction (now BA (Hons) Graphic Design) graduates Jonny Wan and Muiz Anwar, who have over 20 years of combined industry experience working with clients including Apple, British Airways, Nike, The Guardian and more.
"With a second year without physical degree shows, we wanted to make sure the students really felt seen, and what better way to remind them that they're about to go global with an online show, than a phrase like "All Eyes On You", say Wan and Anwar.
All Eyes on You will be the School of Art's second major digital showcase, following on from the success of the 2020 show 'In Progress'. Professor Martyn Evans, Director of the School, said: "We are delighted and proud to be celebrating the incredible hard work and achievements of our final year students. After an unprecedented year, our digital exhibition is a real celebration of our students' creativity, dedication and resilience."
The virtual showcase is a precursor to the physical degree shows which will run in Spring 2022. This will include both our 2020 and 2021 graduates.
You can find out more about Manchester School of Art and explore student profiles on the All Eyes On You digital platform from June 17th.