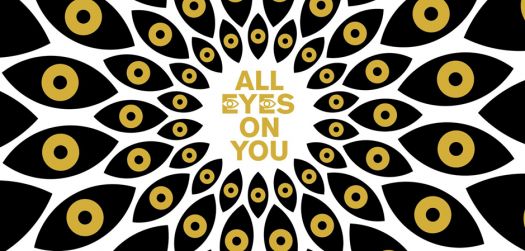 All Eyes On You: Rice and Gold
17 June 2021
Creative duo discuss this year's end of year show identity, their shared history and advice for this year's graduates.
Each year, a different Manchester School of Art alumni is invited to design the visual identity for that year's show. Our 2021 branding has been created by design studio Rice and Gold, created by 2008 Design and Art Direction (now BA (Hons) Graphic Design) graduates Jonny Wan and Muiz Anwar, who have over 20 years of combined industry experience working with clients including Apple, British Airways, Nike, The Guardian and more.
Could you talk about the concept for this year's show? What inspired the design?
"With a second year without physical degree shows, we wanted to make sure the students really felt seen, and what better way to remind them that they're about to go global with an online show, than a phrase like 'ALL EYES ON YOU'.
The design was conceived as being a modular set of concentric patterns made up of eyes spiralling toward the centre of the medium, which aimed to put the students at the heart of the campaign by reminding them that they are and always have been the focus.
The simplicity of the design was intended to make it easier to extrapolate the branding into various other promotional media, from print and digital advertising to merchandising and memorabilia associated with this historic year.
The minimalism of the campaign fit perfectly with Rice & Gold's aesthetic sensibilities and the colour palette was intended to synchronise with the iconic bee that represents the City of Manchester."
Do you have any advice for the students graduating this year?
Muiz: "You'd be surprised how much we can relate to the Covid era, because in 2008 we graduated straight into a global economic recession, rising unemployment, and were only 5 years on from the war on Iraq and Afghanistan, it was a very bleak time - but there is still so much opportunity out there for you so never be dismayed by the headlines of the day. The two most important things to carry forward are a knowledge of the business, and knowing who you are as a person and why you create. Knowledge of the business will ensure you never undervalue yourself but also don't fall into the trap of not knowing how to manage your finances. Knowledge of self will ensure you never are swayed from your intention, and start chasing trends like a cat with a laser pointer that lead to nowhere in the longterm - that's an even easier trap to fall into in the age of Instagram and algorithms."
Jonny: "The best advice I can give is the best advice I received not long after I graduated and that is to keep moving forward. I'd actually add something onto the end of that given the current climate of the world and that is keep moving forward - but don't rush.
Moving forward is just necessary as a creative but also by moving forward I mean being more open to the wider creative industry around you. You never know where opportunities might come from and from who. Stay connected and write to people you admire for opportunities or advice, don't be shy with your work and your worth then you'll eventually get to where you want to be. Very much easier said then done but coming from someone who had little choice but to steer their own ship as a freelance illustrator - it gets easier the longer you do it and its very much worth the effort you put in at the start.
The don't rush part is more about going against this generation of immediacy, we live in a world where things are instant, people want things right now and I believe that for a more fruitful rewarding creative career, it just doesn't work like that. Creative endeavours take time and effort and you don't want to rush it, you want to go at your own pace and really explore what you have"
How did your time at the School of Art help shape your professional practice?
Jonny: I think it's a common theme across art schools up and down the country that there isn't enough one to one time with tutors or professors, no fault of either it's just a simple fact that there are a lot more students compared to tutors.
The biggest thing that I took away from art school was to seek out what I needed for myself. Tutors are a great source of guidance and can steer you into some amazing directions but it all comes down to you at the end of the day to be curious and to explore further.
I was very grateful that the design & art direction course I took was very broad, we got to experiment with graphic design, illustration, advertising and there were also practical workshops like screen printing and bookbinding. All these facilities are there for you to access and for free! so if there's anything you want to try out go seek them out and gain as much experience and knowledge as you can, you never know where it might lead you.
Muiz: The MSOA really kicked the doors wide open for me when it came to creativity. I did a Foundation Year in Art and Design there because coming out of high school, I was caught between the binary of Art (Fine Art), and Design & Technology (product design) but still had really broad creative interests and instincts, and no opportunity to really explore them. That openness continued through my degree in Design & Art Direction, where we could explore anything from advertising and illustration, to fashion photography and book-binding - expanding my repertoire and solidifying my foundation as an Art Director.
Another key thing for me was senior lecturer, Lenore Gristwood, who sincerely championed my ideas of deconstructing identity through my work, and this was at a time when the British government were instructing academics to spy on students from Muslim backgrounds for signs of political or religious zeal. Having someone like that who I could trust in that time and political climate, really re-assured my intention and purpose - to pursue my creative interests academically and professionally, as authentically as possible.
Lastly, the flexibility the staff afforded me by allowing me to pursue live projects during term time. I had already been working for Arts Council England delivering talks to their staff between Manchester and London on Islamic Art during my Foundation Year- and throughout my graduate course I was building connections with Channel4 and boutique design studios. It was an invaluable way for me to establish industry connections, professional experience and continue to meet my academic goals in tandem, so by the time I graduated, I wasn't starting my career ambitions from square one.
Since graduating, what project are you most proud of working on?
Muiz: The first is being Art Director of the Palestine Festival of Literature for nearly 10 of my 13 year career. We brought 208 international writers - from Nobel laureates to emerging talents - across the occupied territories to read to, teach and learn from Palestinian students, most of whom never have an opportunity to leave. Being able to communicate that experience, and that work to the world was an incredible honour that I will never forget.
The second was art directing and designing a 256-page book for the Museum of Islamic Art in Qatar, published in an Arabic and English volume four years after graduating. I was flown out to Doha with mathematicians, physicists, poets [including a young Riz Ahmed] and novelists from around the world, and got to see them be inspired to choose a priceless object housed in the building, and then write about it for this one of a kind anthology. I was able to commission photography of some of these world heritage items at angles that the public had never seen before - the inside of a war mask being a highlight.
I was particularly proud of this project because my Arabic and English editions were designed in tandem, breaking an industry trend in which the integrity of an Arabic volume is always compromised by conforming to the established design language of an English one. My work was described as "exemplary" by the founder of the world's leading Arabic typography and design organisation, Khatt Foundation, and put me on the radar of many of my inspirations who suddenly became peers or friends.
Jonny: This is a really tough one for me because there are two projects that will always be special to me for very different reasons.
The first was creating the Lunar New Year campaign for Kiehls. Like most big advertising jobs the creative direction is already in place, as an illustrator you're very much brought into the last third of the project to bring the ideas to life.
The breathtaking thing about this project was the sheer scale of the rollout that I got to experience first hand by being in Singapore to launch the campaign. The narrative of the campaign was about the journey of a pig living in New York travelling back home to China to be with family for the New Year.
What was amazing to see was what those vector illustrations manifested into, the team in China created fully realised sets from my illustrations, they even managed to wire up a Harley Davidson and turn my illustration into its own little video game. I don't think I've ever been a part of a campaign thats been as expansive or imaginative.
The second project was working on a set of illustrations for ShanghaiMe, a luxury asian restaurant based in Dubai. I worked with a London based design studio called DutchScot. The restaurant wanted to fuse Art Deco elegance with the twelve animals fo the Chinese zodiac.
The thing about this project was the level of ownership I had in terms of creating what I wanted with little to no push back from the agency or the client. I was free to explore fully with no restraint or concerns and was championed on by the creative directors at DutchScot. Projects like these are few and far between and its usually the bigger the client the less control you have to really inject your personality and taste onto the final pieces. Very grateful to have that level of trust from DutchScot.
Rice and Gold is a new studio you have set up, what inspired you to work under this new identity?
Jonny: For me this is two fold.
Firstly its been bubbling in the background for me to want to start some kind of studio or consultancy to handle larger projects with a broader scope from start to finish. The allure of those big ad jobs for the big brands as an illustrator started to feel a little bit same old same old.
Also I spent two months in New York back in 2018 with a group of other illustrators. We all had the same agent based over there so it was a good opportunity to touch base. We arranged as many meetings as we could whilst stateside to get to know new clients aswell as putting faces to the names of people we've previously worked with.
Being in those meetings was a game changer for me, I loved explaining my work and talking about what could have been with certain projects if they had just taken a few more risks and provided a bit more budget. Rice & Gold for me is an opportunity exercise that risk and also direct work that I'm technically not able to do.
Secondly I've known Muiz for the best part of ten years, we've always kept in regular contact since graduation to update each other on how our individual careers were shaping up. We came up together, established our individual practices together and working closely together has always been something we've talked about.
I think we're also very similar on a personal level from the things we joke about, the way we see the world and our own experiences as people of colour living in Britain. All this became the perfect anchor for us to start a new front as a studio, to offer something very different with a certain flavour and most importantly, to work on our terms.
Muiz: I've been really fortunate to work with some incredible people in the industry, from developing my own type designs with Bruno Maag and Erik Spiekermann in my first two years out of university, to counting Malcolm Garrett and Huda Smitshuijzen Abifarès as mentors and friends - my work has opened a lot of doors for me in amazing places and spaces.
And yet, I've been frustrated seeing the creative industry superficially co-opt our cultures, bodies and languages by providing opportunities under the illusion of autonomy and ownership. Unfortunately I see this happening even more so now under the label of representation.
Early in my career, I would receive calls from design studios in London wanting me to come down for a couple hours just to sign off work they had already completed by themselves in Arabic, a language they couldn't speak or read, for a client in a country whose culture they didn't know or understand. The reason they'd been commissioned in the first place despite these fundamental shortcomings, is because there remains a colonised mindset that the "West is Best" when it comes to matters of business.
Rice & Gold was born from a conversation that Jonny and I had in one of our weekly catch ups about work and life, something we've done consistently since we both graduated from Design & Art Direction at the Manchester School of Art. We not only had so much in common personally and professionally, but also in our ambitions for the future. We felt accomplished at this point in our careers, but still wanted to creatively express ourselves in ways clients wouldn't normally commission us to do so after ten years in the game - and also to finally take ownership of projects that dealt with our respective communities and cultures in a way that more genuinely spoke to us and them.
And what better name to encapsulate all that, than Rice & Gold?