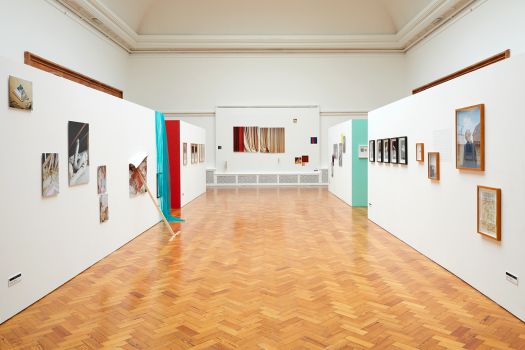 Holden Gallery Graduate Awards
10 June 2021
Applications for new bursary awards for 2020 and 2021 graduates now open
The Holden Gallery is delighted to offer 6 bursary awards to Manchester School of Art graduates from 2020 and 2021.
We recognise that the initial years after graduating can be a challenging time, particularly for those whose academic studies have been affected by the Covid-19 pandemic. The Holden Gallery Graduate Awards will enable artistic and professional development through financial and advisory support by offering each successful candidate a £1500 bursary and 4 x 1 hour fully subsidised mentoring sessions with one of six visual arts mentors, undertaken over a 12-month period.
We welcome applications from 2020 and 2021 BA and MA graduates from Art & Performance, Media and Design departments at Manchester School of Art, working across mediums in the visual arts including, but not limited to: drawing, curatorial practice, painting, printmaking, photography, sculpture, installation, artists film and film & video, sound, live art, contemporary performance, public art, socially engaged practices, design and craft.
Mentors:
Rhiannon Ewing James is the Creative Producer for the British Ceramics Biennial.
Michelle Williams Gamaker is an artist working with moving image, performance and installation.
Tom Lovelace is an artist working at the intersection of photography, sculpture and performance.
Fraser Muggeridge is director of Fraser Muggeridge Studio, a graphic design company in London.
Kim McAleese is a curator and programme director of Grand Union, Birmingham.
Harold Offeh is an artist working in a range of media including performance, video, photography, learning and social arts practice.
Selection Process
A peer review panel of staff from Manchester School of Art will review the applications and select the successful candidates. All applicants will be informed about the outcome of their application as soon as possible, once a decision has been made. We are anticipating a high volume of applications, which means that if you are unsuccessful, we will unfortunately be unable to provide feedback.
You can find guidance about the application process and FAQ's here.
Time frame
Award opens for applications: Monday 14 June
Deadline for applications: Monday 28 June 2021, 5pm
Decisions communicated by: Friday 9 July
Mentoring sessions begin: July 2021
End of programme: July 2022
How to Apply
Please complete the following sections via the application form linked at the bottom of the page.
Your details (name, programme, year graduated, email)
An outline of your creative practice (up to 150 words).
Examples of your work - Please submit two images of your work OR 2 minutes moving image as a Vimeo link (if password protected you MUST provide this). Please note, this is to give selectors an idea of your work, the quality of documentation images won't go against your application given the current situation.
An overview of your proposed bursary activity (up to 150 words) See further guidance below.
How will this award benefit your creative and professional development? (up to 150 words)
What aspects of your practice or professional development would you want to discuss with your mentor? (up to 150 words)
Who would be your preferred mentor and why? (up to 100 words)
Bursary activity might include, but is not limited to:
Studio or workshop rent
Materials or production costs
Research and development
Market development
Website development
Portfolio development
Professional and/or specialised training
Skills development (including courses and workshops)
Professional memberships and artistic networks
Tools for development in relation to your artistic practice
Eligibility criteria
You must indicate that you meet the following criteria:
You must have completed a BA or MA from Art & Performance, Media or Design at Manchester School of Art in 2020, or are due to complete your BA or MA in 2021
You must demonstrate a continued commitment to your creative practice and examples of your work
Outcomes
This award focuses on professional development rather than outcomes, but the successful applicants will be expected to provide updates on their progress, and submit an evaluation questionnaire outlining their experiences at the end of the 12-month award period. We would also like to invite all successful candidates and mentors to contribute to a discursive event to mark the end of the award period.
Equality, Diversity and Inclusion
The Holden Gallery is committed to the promotion of equal opportunities in all aspects of our work. We fully support the principles of Equality and Diversity and will consider this as an important aspect within our selection process.
To apply please complete this form.
Please ensure that you read and understand all of our terms and conditions which can be found here.