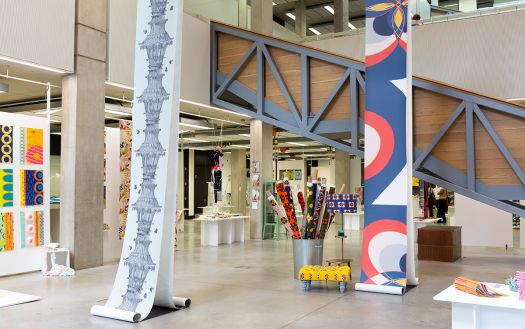 Bernard and Frieda Clowes Textiles Scholarship open for applications
28 September 2021
The new Textiles Scholarship will support students at both undergraduate and postgraduate levels
A new Scholarship for textiles students at Manchester School of Art is now open for applications.
Each year, one undergraduate and one postgraduate UK home student will be awarded the Scholarship, based on academic potential and financial need. The undergraduate bursary is worth £18,000 over three years of study, and is open to students enrolled on the BA (Hons) Textiles in Practice course, 21/22 entry. The postgraduate bursary is worth up to £10,000 against fees for one year of study and is open for students enrolled on the full-time MA Textiles course, 21/22 entry.
The Scholarship has been established in memory of Bernard and Frieda Clowes, who both had long and successful careers in the Manchester textiles design industry. Frieda Clowes was born in Pendlebury, Lancashire and was an alumna of Manchester School of Art, then the Regional College of Art. She spent most of her career as a freelance textiles designer, creating many iconic children's fabric prints for Northern Irish designer Moygashel, many of which are now sought after by collectors Frieda would later work as a colourist at Hartley Textiles in Barnoldswick, where she was joined by husband Bernard.
Bernard Clowes was born in Collyhurst, Manchester, and began an apprenticeship in textiles design upon leaving school at 16. Bernard has been described as a perfectionist with a highly developed sense of colour and form - skills which he used during his time as a designer for employers including Marks and Spencer's and the Vantona Textile Design Company. Among many of his successful achievements were his designs of a Harry Potter bed linen range for Marks and Spencers.
The Scholarship is a joint gift left as a legacy in memory of the couple, who were motivated to support textiles students here at Manchester Metropolitan University.
You can find out more about the Scholarship, including details on how to apply, on our scholarships pages.