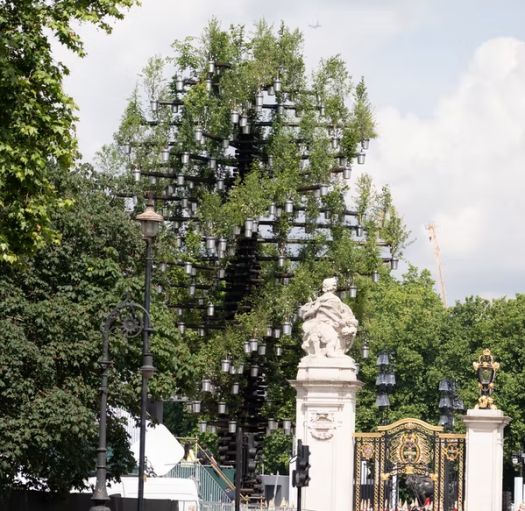 Manchester Met alumnus designs Platinum Jubilee sculpture outside Buckingham Palace 
6 June 2022
The Tree of Trees sculpture was designed by 3D Design alumnus Thomas Heatherwick
An alumnus at Manchester Metropolitan designed the sculpture that formed the centrepiece of The Queen's Platinum Jubilee weekend celebrations.
The 21-metre "Tree of Trees" sculpture created outside Buckingham Palace was designed by Thomas Heatherwick, founder of Heatherwick Studios and 3D Design alumnus at Manchester Polytechnic, now Manchester Metropolitan University.
The sculpture features 350 British native trees and reflects the Jubilee tree planting which has swept the nation as part of The Queen's Green Canopy, a charity initiative inspiring more than a million trees to be planted from October 2021 to March 2022.
The sculpture seeks to put the importance of trees and nature at the heart of this historic milestone to celebrate Her Majesty, who has planted over 1,500 trees all over the world throughout the course of her 70-year reign.
Heatherwick said: "It's an honour for us to be making the Tree of Trees. The structure, created from 350 British native trees and recycled steel, is coming together from workshops and nurseries across the country as one part of an incredible community campaign that's literally changing the landscape of our nation."
The sculpture is made from reclaimed and new steel with materials and expertise sourced from local suppliers up and down the country.
The 350 trees will be set in aluminium pots embossed with Her Majesty's cypher and after the Jubilee weekend will be gifted to selected community groups and organisations to celebrate their work and inspire the next generation of tree planters across the nation.
Heatherwick always thought of architecture as an art form and had a desire to invent and problem solve. In 2017, Heatherwick spoke to Met Magazine about his time at university, where his desire to break boundaries with regard to buildings came to fore. For his final year project, he wanted to do something that had never been done before – he wanted to build an actual building.
He said: "There was resistance, and people kept saying just build a model. But once I had some momentum and people understood, I had the freedom. There is a nervousness about things that have never been seen before."
Heatherwick continues to deliver things that have never been seen before and has been involved in the creation of many iconic designs, from the 2012 Olympic cauldron to a new headquarters for Google.
His company, Heatherwick Studio has won more than 100 international awards for design excellence, including the Prix Versailles and the RIBA National Awards.