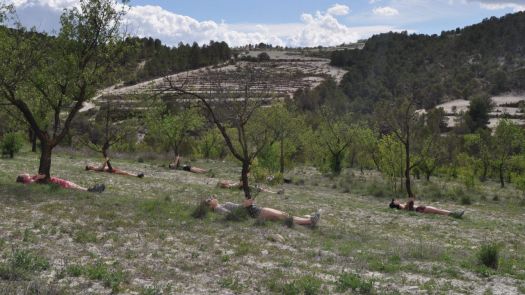 Reader in Sculpture Brigitte Jurack stages solo exhibition at HOME
28 November 2022
The exhibition brings together work produced across the UK, India and Spain over the last four years
Work by Brigitte Jurack, Reader and Head of Sculpture and Time-Based Arts at Manchester School of Art, is currently on display as part of a new solo exhibition at HOME, Manchester.
Fieldnotes is the largest solo exhibition from the artist to date, and brings together work produced across the globe over the last four years, with a focus on issues pertaining to craft and labour, sustainability and the nature of our times.
The exhibited artworks include a wide variety of mediums, including sculptural clay works, video propositions, interactive workshops and diaristic drawings. The exhibition highlights the importance of everyday creativity, fresh air, access to greenery in nurturing our wellbeing. Jurack's exhibition urges us to consider our individual relationship to the natural environment and climate change in shaping a new future.
"It's been really rewarding to witness the impact of the participation elements of the exhibition - all the skep workshops were immediately booked up and many visitors have used the drawing stations and left their creations in the show. The themes of our relationship with the natural world are coming through strongly - I am also looking forward to the evening of the 6th of December (18.00) when Melanie Challenger and Rosemary Shirley will discuss the key themes of the exhibition: our cultural entanglement with land, re-wilding and kinship with other animals".
Brigitte Jurack studied at Kunstakademie Düsseldorf, before co-founding the artists' collective Foreign Investment. In addition to her roles at Manchester School of Art, Jurack has exhibited work widely in exhibitions at FILET (London); IMMA (Dublin); Kunsthalle Düsseldorf and Bluecoat (Liverpool) and has held fellowships at the British School at Athens, ICI Redcar, EKWC Hertogenbosch and the Sanskriti Foundation, New Delhi.