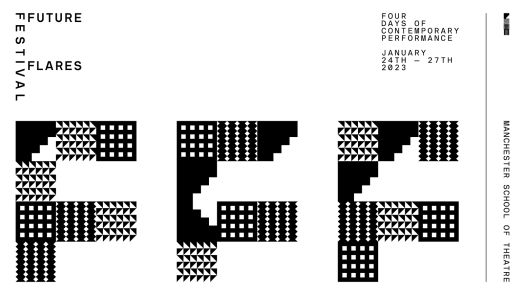 Future Flares Festival to showcase contemporary performance in Manchester
6 January 2023
Launching from January 24th
Future Flares, a four-day showcase of contemporary performance jointly delivered by Manchester School of Art and Manchester School of Theatre, will launch from January 24th.
Featuring an acclaimed performance project from Switzerland, a startling physical performance from Liverpool, and a range of other presentations from both emerging and established artists in Manchester, the festival will seek to ask and answer the question of how creators and performers are responding to the challenging times we are living in.
Swiss/Russian duo Arnold and Komarov Travelling Theatre, following a journey through Switzerland, Russia and Pakistan will present their "archive of shame" in Shame on You!, and independent performer Will Dickie presents White Sun, a lo-fi symphony of words and movement examining the nature of inheritance, privilege and addiction.
School of Theatre academics Kevin Egan and Michael Pinchbeck will present Matchstalks Remastered (work-in-progress); a translation of the 1978 hit 'Matchstalk Men and Matchstalk Cats and Dogs' - inspired by the artwork of LS Lowry - into a series of theatrical motifs. Exploring the visual language of Lowry's paintings, Egan and Pinchbek will draw on the history of the Lowry, with access to Manchester School of Art's Special Collections.
Additional events include As I am Naturally (work-in-progress), an autobiographical performance from Manchester-based Tania Camara, and Devise one Action or gesture that can be easily repeated…, a group response to the title's provocation delivered by Fine Art, Art History and Curating students, led by artist and Senior Lecturer Nicola Singh.
Find out more about Future Flares Festival here.