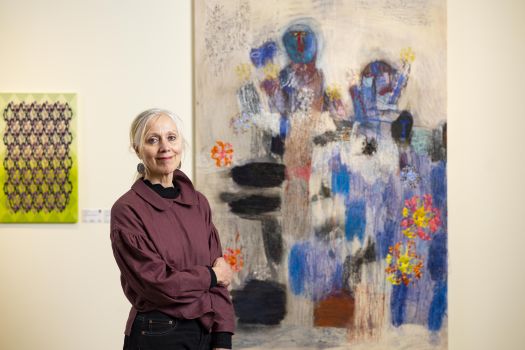 Professor of Textile Arts wins top contemporary craft prize
3 March 2023
Leading textile artist Professor Alice Kettle announced as winner of the prestigious Brookfield Properties Craft Award
A Manchester School of Art professor and internationally renowned textile artist has been announced as the winner of the 2023 Brookfield Properties Craft Award for her significant contribution to contemporary craft.
Recognised as one of the most important textile artists in the world, Prof Kettle's winning body of work will be acquired by Brookfield Properties and donated to the Craft Council's national collection.
The accolade was announced at Collect 2023, the leading fair for contemporary craft and design, and was presented by the Crafts Council.
Worth the equivalent value of £60,000, the prize involves three of Professor Kettle's new pieces entering the Craft Council's national collection. She will also receive support to stage a solo exhibition with a more extensive collection of her works across two of Brookfield Properties' sites in London, which will open to the public this summer.
Prof Kettle, who is based in the University's Manchester School of Art, said: "I am delighted to win this award, and very proud to champion craft and material practice. I am always inspired by my colleagues and students at Manchester School of Art, who push the boundaries of creativity. There is so much rich practice and knowledge that we draw upon through our histories of making and drive forward through innovation."
Part of Prof Kettle's winning body of work responds to the theme of oceans and our collective need to protect them. It was created especially for her presentation with Candida Stevens Gallery at Collect 2023, which takes place at Somerset House until March 5 and online until March 12.
In keeping with her sustainability theme, Prof Kettle uses off-cuts of recycled materials with a unique embroidery technique on the sewing machine, incorporating expressive lines to create a sense of movement and to allow for experimentation.
Depicting contemporary events, she draws references from the history of figurative textiles and monumental narrative tapestry, portraying female figures and mythology.
Previous work by Prof Kettle has included the Thread Bearing Witness exhibition, which shined a light on refugee voices.
Her work has been held in numerous international public collections, including the Crafts Council, which holds over 1,700 objects acquired from the 1970s onwards including a 1988 piece by Professor Kettle.
Sumitra Upham, Head of Public Programmes at the Crafts Council, added: "Alice Kettle is an artist who has consistently provoked imaginations through her playful and inquisitive approach to making, materiality and scale. Her depictions of women, mythological beings, and nature in textiles encourage us to contemplate our relationships with each other and with other species."