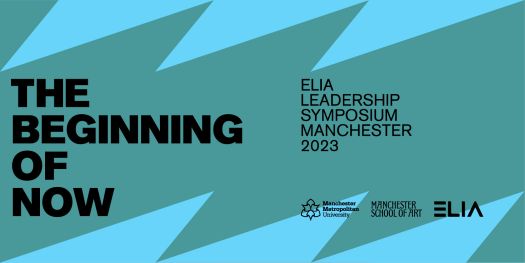 Manchester School of Art to host ELIA Leadership Symposium 2023
29 March 2023
Registration now open for the event in October 2023.
Manchester School of Art, Manchester Metropolitan University has been announced as the hosts of the ELIA Leadership Symposium 2023.
The internationally renowned event will run from 18th - 20th October and brings together influential leaders from higher arts education institutions and universities across the globe to discuss their responsibilities as local leaders in the field of education.
This years' theme The Beginning of Now gathers global thinkers, arts education leaders, researchers, policymakers, changemakers, and strategists to a city steeped in a radical tradition.
Against the backdrop of global urgencies, the cost-of-living crisis, armed conflict, ecological emergencies, and social injustice, the ways our students learn and perceive their role in the future are rapidly evolving. As educators, we face growing pressures to remain authentic in a highly metricized educational market.
Shelley McNulty, Head of Design at Manchester School of Art: "We are thrilled to host the ELIA Leadership symposium and look forward to welcoming arts leaders and educators from around the world to Manchester School of Art. This is an important and timely moment as the symposium provides an opportunity to explore new and alternative leadership models that we hope will contribute new narratives for higher arts education, and better reflect the future needs and potential of our students, and their contribution to the world. There is no better place to do this than Manchester, a city steeped in radical traditions. We're looking forward to showing off our City through an exciting cultural programme."
Engage in democratic and generative processes and spark a powerful call to action – The Manchester Provocation. Coalesce with international colleagues to share ideas, manifestos, research, and methodologies on how the future of arts education should look like. Join this thought-provoking, energising event.
For more information and to register for tickets, visit the ELIA website.