20 June 2006
'21 Countries' Installation Returns to New York
Stephen Dixon's ceramics purchased by leading museum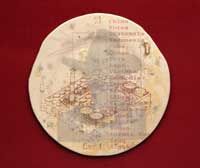 Stephen Dixon's ceramic installation piece 21 Countries will make a permanent return to the USA later this summer, following its recent purchase by the Museum of Arts & Design, New York.
David Revere McFadden, Chief Curator and Vice President of the Museum, stated "We are delighted to announce that this major work by Dixon has become part of our permanent collection. It is both timely and historical and admirably documents the work of this artist. 21 Countries will be a prominent addition to the collections we will display when we move into our new and much bigger building at Two Columbus Circle in about 18 months!"
A series of 21 figuratively 'decorated' ceramic plates, 21 Countries was developed throughout 2002 and 2003, during the build-up and prosecution of the US-led war on Iraq. Complex visual narratives identify the 21 countries bombed by the US government since 1945, and highlight this disturbing statistic.
First shown at the Imperial War Museum North, Manchester, in February 2004, the work has since been widely exhibited, notably in California (Clay Gallery, Venice, Los Angeles, April 2005) and New York (SOFA exhibition, New York, June 2005).
Stephen Dixon lives and works in Manchester, and is currently employed as Senior Research Fellow, MIRIAD, at Manchester Metropolitan University.

Further information, articles and publications:
Lesley Jackson, 'WAR PAINT', Crafts No. 188. ISSN 0306-610X
Claudia Clare, 'AN ALTERNATIVE VOICE', Ceramic Review No. 209. ISSN 0144-1825
Lesley Jackson, '21 COUNTRIES', Ceramics in Society, Issue 57. ISSN 1474-3825
21 Countries is fully documented on a limited edition CD-ROM publication, available from the artist.