14 January 2008
Inspiration Tour comes to MMU
Microsoft helps students understand latest software trends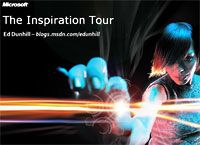 Touch and speech control are just part of the future of mobile technologies, according to Microsoft boss Bill Gates.
And some of his top people are coming to MMU to show off some of the software of the future.
Top 'techies' from the company are touring the UK showing students how to use latest software to create their own applications. They visit the Faculty of Science and Engineering on January 24.
Silverlight, XNA and Microsoft Embedded are featured technologies on the tour showing you how to enter the world of computer gaming, modern IT, the web and mobile devices.
Revolution
Students will find out how the latest ideas are contributing to the global market and revolutionising the way we make new software and applications.
"It will give students a better understanding and a greater chance of being successful in their future careers in IT."
Dr David Britch of MMU's Department of Computing and Mathematics said: "Technology today is moving fast so students who graduate without excellent mobile development skills are limiting their job"
Usually drawing over 100 students the Inspiration Tour have three sessions to take part in.

An introduction to Microsoft technologies
Job opportunities
What impact the software has on next generation platforms e.g.: Web 2.0, mobile and Microsoft embedded devices, and the games industry


The sessions will be running between 11am and 2pm Thursday 24th January 2008 in the John Dalton Building - Room C0.14 (Assembly Hall). You can drop into whichever session suits you best. All sessions are free.
For more information please visit http://www.microsoft.com/uk/academia/inspirationtour.