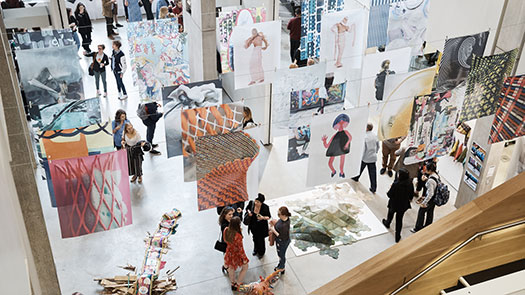 Professionalising Practice Project
Do you want to make a living from your creative practice?
Do you want to experience what career options are reliable to you after graduation?
Do you want to learn practical skills like how to price your work/time correctly or how to approach a gallery to exhibit your work?
The Professional Practice Project will help you develop your employability skills while also giving you the opportunity to gain hands on experience through a variety of creative roles.
Through training and delivery, we will help you to embed professional practice skills within your studio practice to enrich your submissions and develop the skills you need on graduation.
Examples of what we cover throughout the project—
Building confidence
Developing reflective practice
Funding
Working to commission
Going Freelance
Pricing and Selling work
Developing professional attitudes
Tax Bookkeeping
Becoming an Arts educator
Networking
Plus access to inspirational practitioners and peer support sessions.
Please visit your departmental Moodle page, scroll down to the P3 section and join the mailing lists and/or Facebook group to find out about the upcoming programme. If you have any problems, email Elle at e.simms@mmu.ac.uk for more details.
Current P3 Opportunities
P3 opportunities are now integrated into the university's Guardian-award winning Rise programme – so you can earn points that can be turned into recognition and even credits towards your degree. You'll need to register for Rise and complete the introductory tutorial before you can access the opportunities here.
You can also join our P3 LinkedIn group to stay up to date with current opportunites and to ask any questions you might have.
Sell Your Work With Us!
As part of the Professionalising Practice Project (P3), our employability and enterprise initiative from Manchester School of Art at Manchester Metropolitan University, we also have two retail testing spaces (shops) open to the public – one at Marketplace Studios, Stockport and one at Corner/Shop at No70 Oxford Road, Manchester.
We sell high quality art, design, fashion and craft all made by the best, most innovative new designers in the country. If you're looking for a limited edition print, a hand-crafted ceramics or a one-off piece of jewellery, you'll be able to find it in our shops!
If you are a current student, graduate or alumni you can have the opportunity to sell your work* in our shops, and – if you need it – with help, support, training and mentoring to help turn your creative ideas into commercial products.
Please download our P3 Open Call Submission Guide and application form—
The completed application form should be returned to marketplace@mmu.ac.uk
* Terms and conditions apply – sale or return, 35% commission
Kraft/Work
Runs in July each year
What Now?
You are finishing your studies and wondering how you are going to make a career from your degree. Perhaps you are thinking of setting up your own business, studio, product line, social enterprise, educational course, or perhaps you want to develop your employability through skills and professional training?
Kraft/Work is a transition into employment project aimed at ambitious and talented new graduates from the Faculty of Arts & Humanities who are looking to develop their creative, social enterprise and business skills.
Applications will open in 2021. Join the P3 LinkedIn group to keep up to date with the programme.
P3: The Sketchbook Collective
How working as a collective produces student project ownership, boosts confidence and puts into action employability skills.
This year the Manchester School of Art Sketchbook Prize was handed over to a group of students as a P3 live brief. These graduating students formed a collective, working strategically and operationally to deliver a revised Sketchbook Prize, read more about the accomplishments of the collective in this article. The article highlights how working as a student collective offers the opportunity for student ownership, boosts confidence, develops team working, enhances employability skills and illustrates meeting graduate outcome.