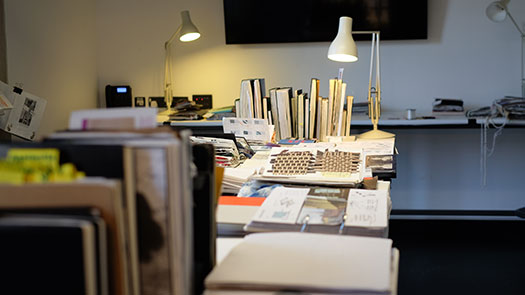 Sketchbook Prize
The Manchester School of Art Sketchbook Prize will be exhibiting alongside the 2019 Degree Show, an exhibit of students and staff sketchbooks in an exciting and dynamic display.
The Sketchbook Prize celebrates and accentuates processes undertaken by each individual in the show, it highlights the methodologies, innovative ideas, the importance of process, experimentation, discovery and development and aims to evoke further thoughts, possibilities and generate responses from visitors to the shows.
Founded in 2017 by a collective of multi-disciplinary international MA students at Manchester School of Art, the Sketchbook Prize offers a creative platform for designers, artists, architects and makers to display their thinking process.
The Sketchbook Prize invites current Manchester School of Art students, members of staff and teachers from the region to submit their sketchbooks. We invite submissions from across all disciplines and levels. Submissions are open to all formats of sketchbooks: physical, digital, three dimensional, or however you keep your personal 'book'.
Prizes
CASS ART vouchers for Foundation, Undergraduate, Postgraduate and Staff Sketchbook prizes, and a SOLO show prize for one winner at CASS ART Manchester store with support.
How to Submit Your Sketchbook
Please download and complete the following application form, which should be submitted with your sketchbook.
Drop-in
You can submit your sketchbook at one our drop-in sessions between 12 noon and 2pm on 4, 5 and 6 June 2019 at Manchester School of Art.
By Post
Alternatively, you can post it to us at the address below, to arrive by 31 May 2019.
Clare Knox-Bentham
Manchester School of Art
Manchester Metropolitan University
Chatham Building
Cavendish Street
Manchester
M15 6BR
Please note — If you are sending your work, your sketchbook application must arrive by the competition deadline on 31 May 2019. If your submission arrives after this deadline you will be excluded from the sketchbook competition but we will include your sketchbook in the overall exhibition. You will receive an email with a receipt validating your submission. By entering your work into the Sketchbook Prize, you are granting a non-exclusive perpetual licence to Manchester School of Art and Manchester Metropolitan University to reproduce images of your work on our website, social media accounts and in publicity materials. All creators of utilized work will be credited.