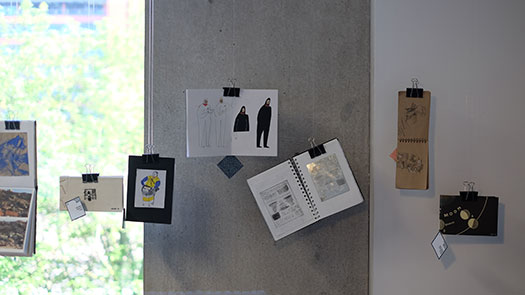 Sketchbook Collective
The Manchester School of Art Sketchbook Collective will be exhibiting alongside the 2020 Degree Show, a showcase of students, staff, schools, and teachers' sketchbooks in an exciting and dynamic virtual display.
The Sketchbook Prize celebrates and accentuates processes undertaken by each individual in the show, it highlights the methodologies, innovative ideas, the importance of process, experimentation, discovery and development and aims to evoke further thoughts, possibilities and generate responses from visitors to the shows.
Founded in 2017 by a collective of multi-disciplinary international MA students at Manchester School of Art, the Sketchbook Prize offers a creative platform for designers, artists, architects, and makers to display their thinking process.
The Sketchbook Collective invites Manchester School of Art students, staff, and teachers from the region to submit their sketchbooks. We invite submissions from across all disciplines and levels. Submissions are open to all formats of sketchbooks: photographs, digital, three-dimensional pieces, or however you work on or in your personal "book". Any digital format is accepted as a submission, you can interpret the format with any method you think best showcases your sketchbook. It can be a video, scans of your book, pictures, pdf, and others, but you need to show at least five pages - the more the merrier!; of the sketchbook you are entering in the competition.
Prizes
To be announced soon.
Finding, seeing and sharing value in the sketchbook
There are five categories to submit to with prizes to be announced soon. The categories are—
The least 'Sketchbook' Sketchbook
For this category we want you to explore what a sketchbook is to you, how do you get your idea out of your head and document them. How far away from a conventional sketchbook is your work?
Thinking in a Sketchbook
This category is for those of you who work traditionally in sketchbooks, we want to see how you figure things out. Do you use drawings, words, diagrams, photographs, etc. How do you communicate your ideas and process on a page?
Working in 3D
Do you document your ideas through making? Lots of people create physical objects to show their thought process, if this is you, we would love to see how you do this!
Digital Sketchbook
For those of you who work digitally or with moving images, this is for you. We would love to see your digital sketchbooks; this can involve moving images but is not necessary. How do you record your work, is it a series of images or is it in video format?
The Sketchbook as an art piece
Artists books can be beautiful, refined, handcrafted objects to inspire and influence creatives. If you have a sketchbook that you would consider as the art piece you can enter this category!
How to Submit Your Sketchbook
Please complete our online application form and send your submissions to sketchbook@mmu.ac.uk from 4 June 2020.
For further details on what to include with your submission please see the application form.
Please note — By entering your work into the Sketchbook Prize, you are granting a non-exclusive perpetual licence to Manchester School of Art and Manchester Metropolitan University to reproduce images of your work on our website, social media accounts and in publicity materials. All creators of utilized work will be credited.
Collaborative sketchbook
Each week via Instagram we are asking for visual responses to different themes. These will be collated and curated into a collaborative sketchbook which will be shown alongside the category submissions at the online event.
Follow us at sketchbookcollection2020 for all the updates of the weekly challenges.