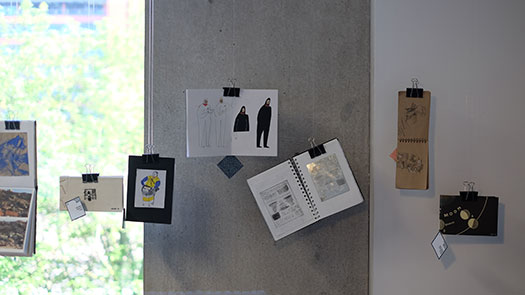 Sketchbook Collective
The Manchester School of Art Sketchbook Collective exhibits alongside the annual Degree Show, a showcase of students, staff, schools, and teachers' sketchbooks in an exciting and dynamic virtual display.
The Sketchbook Prize celebrates and accentuates processes undertaken by each individual in the show, it highlights the methodologies, innovative ideas, the importance of process, experimentation, discovery and development and aims to evoke further thoughts, possibilities and generate responses from visitors to the shows.
Founded in 2017 by a collective of multi-disciplinary international MA students at Manchester School of Art, the Sketchbook Prize offers a creative platform for designers, artists, architects, and makers to display their thinking process.
P3: The Sketchbook Collective
How working as a collective produces student project ownership, boosts confidence and puts into action employability skills.
This year the Manchester School of Art Sketchbook Prize was handed over to a group of students as a P3 live brief. These graduating students formed a collective, working strategically and operationally to deliver a revised Sketchbook Prize, read more about the accomplishments of the collective in this article. The article highlights how working as a student collective offers the opportunity for student ownership, boosts confidence, develops team working, enhances employability skills and illustrates meeting graduate outcome.