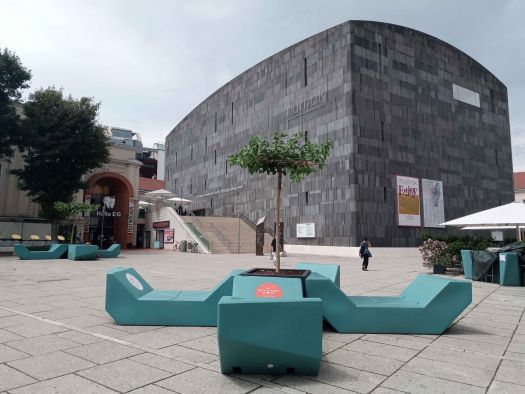 Jessica Maher and James Mathews-Hiskett talk about their Vienna residency!
31 August 2021
We are delighted to announce that the "Curators of Tomorrow" fellowship program between the Q21/MuseumsQuartier Wien and the Manchester School of Art launched its first edition in July 2021.
The "Curators of Tomorrow" program focuses on providing talented creatives with opportunities to develop an international profile while ensuring an international exchange activities. The initiation of this fellowship program is designed mainly for students who are about to engage with the professional practice stage of their MA/MFA Contemporary Curating studies at Manchester School of Art.
This international residency is a collaborative effort between Q21/MuseumsQuartier Wien and Manchester School of Art.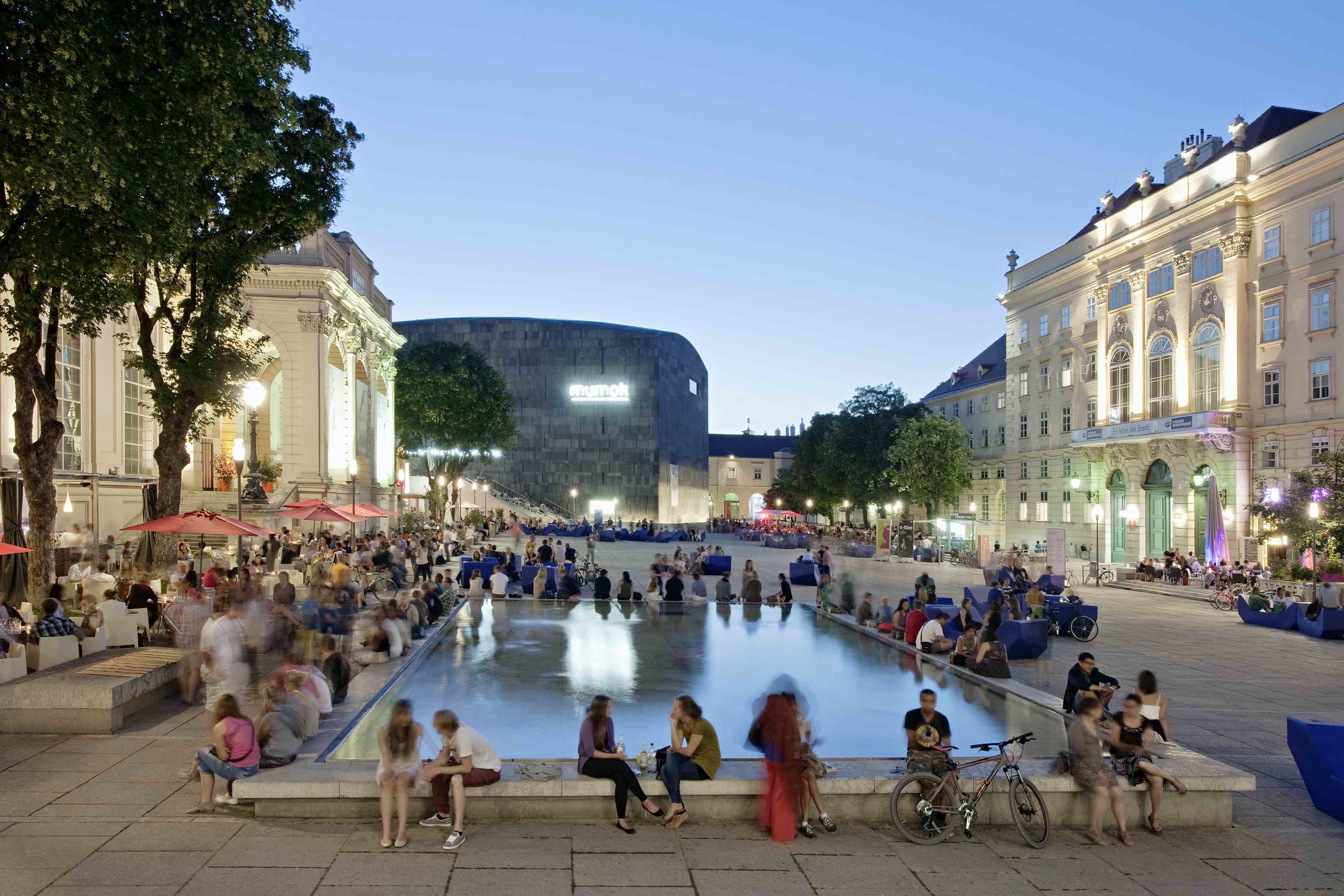 Photo: Hertha Hurnaus, copyright © MuseumsQuartier Wien
Each participant is given the opportunity to live and work for the period of one month in one of the Q21 studios at MuseumsQuartier Wien in Vienna and two of our emerging curators Jessica Maher and James Mathews-Hiskett have been the first selected participants of this new initiative.

Jessica and James joined us in this interview to reflect on their academic experience with their studies as well as their residency experience with their fellowship, conducted by Dr Gulsen Bal (Programme Leader in MA/MFA Contemporary Curating).

Gulsen: Could you please tell us about yourself, what programme you are studying and your experience with your academic studies? So, let's start with Jessica...

Jessica: I'm an independent curator and artist studying at Manchester Metropolitan University studying contemporary curating. My experience towards my studies has been somewhat challenging as it has been restricted due to the pandemic. However, I came to the course completely oblivious to the nature of curating and the structure of exhibition-making. And, it's been comforting meeting creative people and learning the roles of a curator historically and independently.

James: I am currently studying on the MA Contemporary Curating programme at Manchester School of Art. I do this part time, working at Castlefield Gallery in Manchester alongside my studies. I originally studied Fine Art at Manchester School of Art and have lived in the city since. After a few years doing a lot of volunteering and nurturing an interest in curation through self-initiated projects and bits of freelance writing for regional arts press, I decided to return to the art school in 2019. Studying part time has been perfect for me as it has allowed me to pursue my academic interests without requiring a break in work. I think that decision has also benefited my studies, as it has allowed me to take on projects alongside the course and my job, such as working as an Associate Curator with Pavement Gallery or producing exhibitions for Castlefield Gallery's New Art Spaces - temporary exhibition spaces in the Greater Manchester Area.

Gulsen: Can you tell us what motivated you to apply to this specific international Fellowship and what you hope to achieve while in the "Curators of Tomorrow" of Q21 residency program?

Jessica: My motivation for applying for the Q21 residency was to gain credibility in my curatorial ideas. To see if they had potential academically, but also practically too. What I hoped to achieve from the residency was to gain insights into the curatorial from other curators and to see how the art differs in portrayal, acceptance, and imagination from Britain to Vienna. As well as to network with other curators, artists, and to see as much art as possible.

James: My plans for the Q21 residency changed significantly between applying and arriving in Vienna. This was mainly due to the fact that the pandemic delayed the Q21 residency by a year. Additionally, the idea of travelling abroad felt very different in light of what has happened, and I am now at a very different stage in my MA studies. My initial proposal for the residency was written in the run up to the UK's exit from the European Union and I was interested in exploring how my own perceptions of the European Union and what it may represent, related to those of the people I might meet in Vienna. However, by the time I was actually able to travel to Vienna this summer I felt as if I was part of a very different post-Brexit, living-with-COVID, world and this changed my thinking. I became more interested in thinking about how my own different and new personal experience of travelling across a border that wasn't previously there, related to a wider question of how this might affect collaborative working in the arts in the future. My research interests for my upcoming dissertation are concerned with what place political agency has in curatorial practice in different more, or less, institutional contexts. So I was also keen to meet and see the work of as many different curators, working in as many different contexts, as I could.

Gulsen: Has there been a seminal experience? And, maybe you could share your thoughts about how the precarious times that we are going through impacted on your curatorial thinking through your Q21 residency?

Jessica: The experience has been deeply influential from Q21 arranging meetings with other curators, professors, theorists and by association artists too has given me an altered interpretation of curating, I would go so far as to say it has been educational, which was a nice addition to my studies back in the UK. The impact it had on my curatorial thinking in the current precarious times has been refreshing, to say the least, my proposal was dissecting the notion of ' difficult knowledge' and with the allowance to be able to think and talk about this with other curators, but also explore it within other fields as well as look into alternative approaches has made me more confident within my ideas. I neglected the influence that institutions have on creative thinking, and by MQ allowing us a pass to see the galleries continuously, I was able to properly digest, dissect and evaluate what I was seeing, how it was being portrayed and how they executed their objectives gave me a lot to think about and made me think deeply about curating as well as the art experience.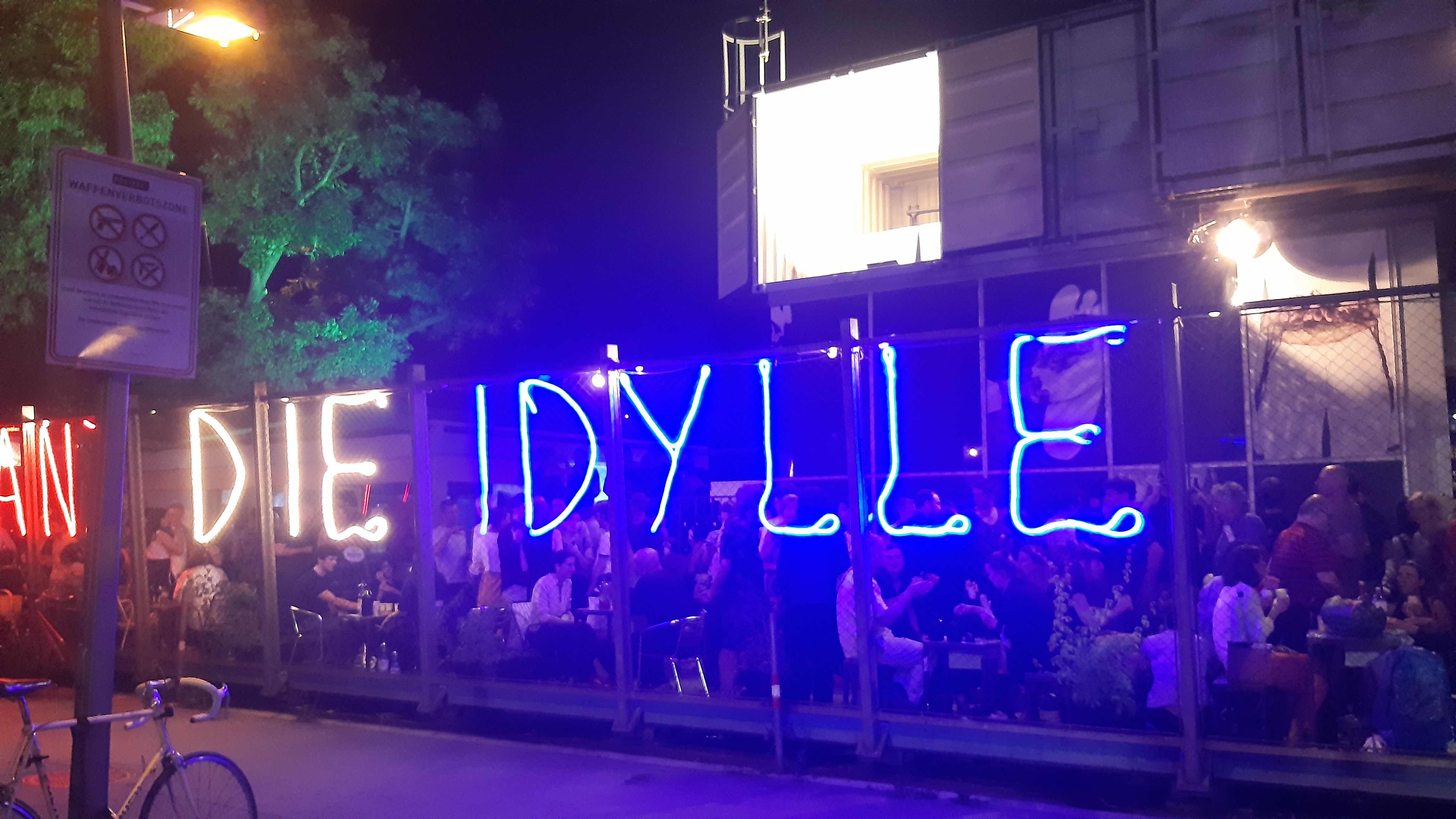 The most memorable experience from the residency was going to the Liquidity exhibition at Fluc because it shown me how freelanced curating and art making can be. Also, meeting Professor Andreas Spiegl and having an open discussion on my proposal on 'difficult knowledge' and him giving me alternative references for me to delve into, to gain a broader understanding of and operations of 'difficult knowledge' and the curatorial approaches. My time in Vienna overall has been extremely memorable as it made life seem normal, even if it was for a small amount of time, and it changed the way I thought about curating. It encouraged me to take influence from the innovation from the curators, artists, and institutions I had the pleasure to meet and explore to apply it to my own curatorial practices.

James: One unexpected result of visiting Vienna this year after multiple extended periods of exhibition and museum closures in the UK throughout 2020 and early 2021, was how powerful and beneficial simply looking at art was.

As a result of not being able to see almost any art in real life in recent months, I think I had forgotten how important it is that any research I might be thinking about is grounded in the act of actually looking at art and visiting exhibitions. Therefore, I found it immensely beneficial to spend a large and focused period of time seeing as much as I possibly could in as many different contexts as possible. I often keep journals on any trip away from home and I also found myself thinking more actively about this whilst I was in Vienna. In the past I have always separated my personal reflections on travel and my experience of places, from the "serious" business of reflecting on art that I have seen or read or heard about. However, as mentioned above, on this trip I became interested in ways the two sets of experiences might be brought together and how this would affect my thinking about both.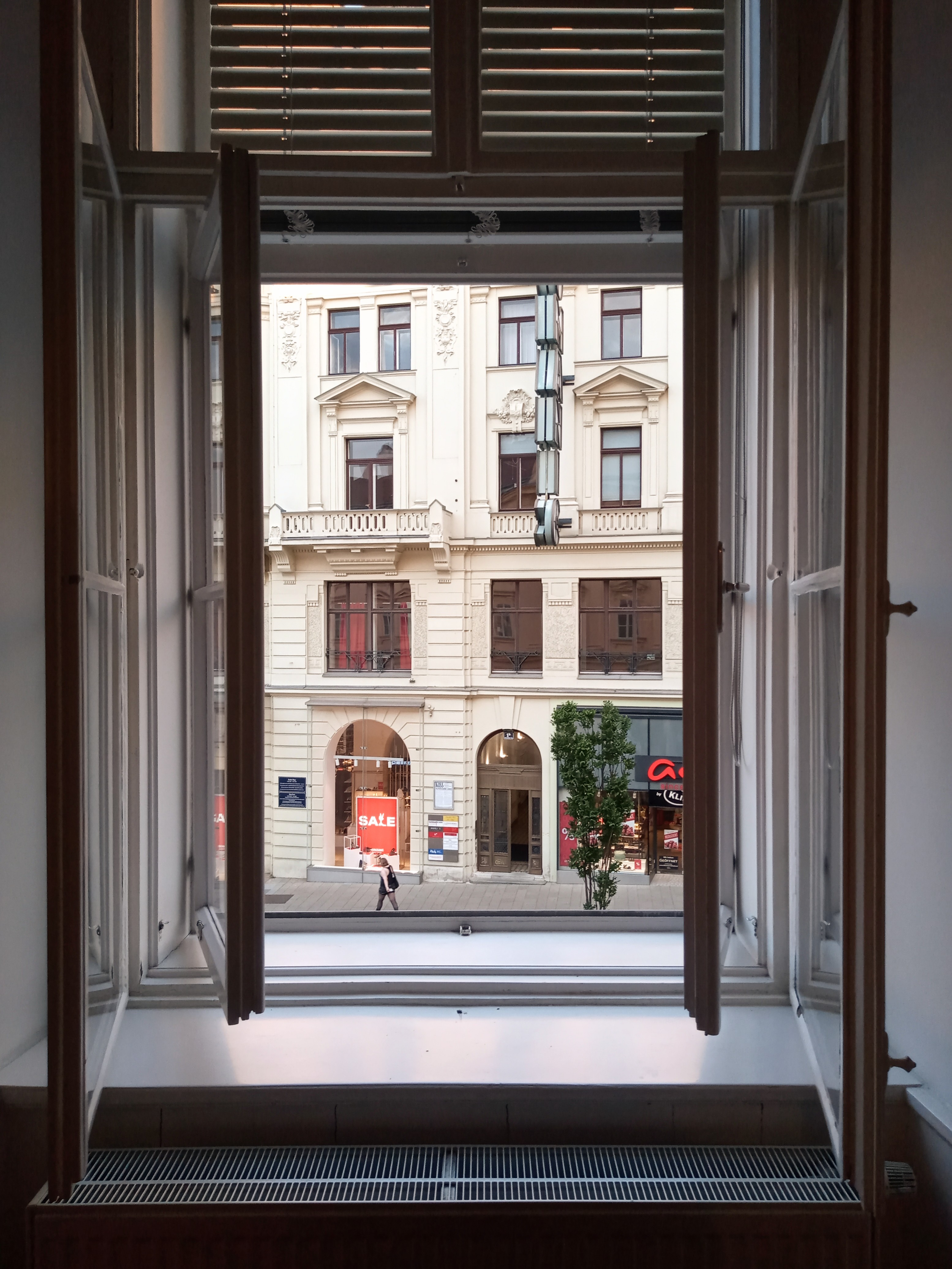 Gulsen: Anything to add?

James: I am very grateful to Q21 for the opportunity to spend time in Vienna part of the Curator-in- Residence program. Even if it is for only a short time, I think there is a subtle but significant difference between visiting a city as a tourist and experiencing one as a resident (albeit temporary). I relished the opportunity to see the city from this point of view and hope that it will be relevant and useful in the completion of my studies and beyond.

Jessica: Nothing to add.