Music and Sound for Media
MA
Music and Sound for Media
Music and Sound for Media MA has been developed to give you a comprehensive understanding of high level technical theory alongside key practical skills associated with composition, sound design and production for a broad range of digital media.
You will have studied in an associated area such as composition, sound design, recording and/or producing at undergraduate level and this course will develop your skills and knowledge further as you create and produce music and sound for environments and contexts that are immersive, interactive and responsive.
Features
—

Music and Sound for Media is part of the Department of Media at Manchester School of Art which has an established community of interdisciplinary staff, and research students with expertise in fields that include Animation, Filmmaking, Photography, Media Theory and Multimedia Digital practices.

—

The Department promotes a blending of arts practices responsive to current cultural and digital industries demands; inspiring students to engage with real world scenarios through creative and imaginative responses.

—

It has developed a framework that fosters interesting and diverse approaches to engage with external partners within the city, the region, nationally and internationally. Recent partners include HOME, BBC (Media City), CITV, Manchester City and Regional Art Galleries, Open Eye Photography Gallery, Red Eye Photography Network, International Anthony Burgess Foundation and international partnerships in China, India, Brazil, Russia and Europe.

—

Core to all of the teaching and research in the Media department is the continuing exploration of new modes of expression through digital technologies and support students in developing a robust and individual creative practice that has relevance to a diverse range of cultural industries.
Course Content
The MA Music and Sound for Media is made up of four units totalling 180 credits.
Year 1
(

MA Full-Time

)
Professional Platforms
This unit extends your experience into the professional sphere, either through a practical project, research context, exchange, work experience or other negotiated professional set of interactions with an external partner, groups of students and creative industry. Projects and placements take place in a set network of art, design and media organisations in the region, but can also be arranged by individual students if based on similar frameworks of professional development and experience. The PDP also takes place in this unit.
Practice 1 Media: Project Synopsis and Development
The unit will develop the outline and first framework for a future large-scale project by investigating a range of practical research methods, and experimenting and exploring with the innovative application of related media and theory content, through visual and theoretical outputs and display forms. This unit explores the pre-production and prototyping phase of the specialist creative process and project development.
Practice 2 Media: Music and Sound Major Project
This unit builds upon the previous practice 1 unit and provides an opportunity to take forward compositional, sound design and production concepts to completion within a variety of media contexts. Within this unit students will be expected to resolve a comprehensive understanding of individual and/or collaborative practice within music and sound for the digital arts, its place in relation to the broader related discipline and the potential professionalisation and sustainability of their future practice.
Sound Design for Interactivity
You will acquire and develop underpinning critical theory and practical skills in the capture, processing and integration of sound for a variety of interactive media contexts. Focusing primarily on the application of sound within non-linear narrative, you will analyse, prototype and critically evaluate adaptive and immersive environments from the perspectives of user experience, practical application and overall aesthetic.
Composition
Within this option, you will develop their compositional skills and apply these skills to a variety of digital arts practices. This will be achieved through three broad strands of activity:
Contextual Frameworks: Tutor-led seminars will explore current and historic practices through exploration of a range of key practitioners and key works in the field of music and digital arts.
Practice: You will negotiate and develop a practical portfolio of compositions that draw on the approaches explored during the tutor-led seminars. Suggested areas of composition practice may include: music for screen (TV adverts; computer games; film (any genre); animation); music for theatre; popular song on screen.
Critical Reflection: each composition project will include a short analysis that contextualizes the portfolio, in relation to the wider context and lineage of contemporary arts practice/practitioners studied and compositional techniques explored.
Contemporary Screen Music Studies
This option engages students with the wealth of new scholarship in the field of music and sound for screen media. Drawing on disciplines as diverse as cognitive psychology, post-colonial studies, semiotics and cultural studies, this literature addresses key questions regarding how we 'read' the audio elements of screen media, the cultural values and ideology manifest in screen music practices, and the impact of new media on the way screen music is produced, disseminated and understood.
Improvisation for Screen
This option will present you with a series of practical projects through which strategies and skills necessary for devising and improvising music, sound and contemporary body music for the moving image will be developed. Tutor-led seminars will provide you with a set of contextual frameworks for improvisation for silent film and digital media, and thematic improvisation workshops (animation, film, video installation, fashion events, etc.)
Resources
We have developed a dedicated postgraduate area occupying an entire floor of the main School of Art building, offering an exciting space to be, both intellectually and practically. The centre is located in the newly refurbished Chatham Tower with studios, design laboratories, seminar rooms and extensive workshops that form the nucleus of this vibrant, cross-disciplinary learning environment.
Find out more about Manchester School of Art's facilities.
Student Work
Visit our online MA Show galleries to see examples of recent work by our postgraduate students.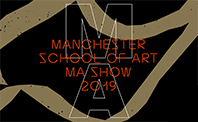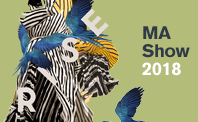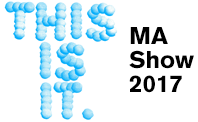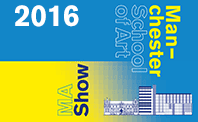 Graduates
We cultivate highly motivated, independent and creative thinkers who can transfer their skills into the creative marketplace, as entrepreneurial innovators, freelance practitioners and innovative team players.
Making an Application
Entry Requirements
You will normally have an undergraduate UK honours degree or international equivalent or a degree-equivalent postgraduate diploma or a professional qualification. Alternatively, you may be admitted if you can demonstrate appropriate knowledge and skills at honours degree standard. In addition, you may also need to submit a digital portfolio.
How to Apply
Please apply online using the link below.
Fees
2020 Entry
UK and EU students
UK and EU students: Full-time fee: £9,250 per year. Tuition fees will remain the same for each year of your course providing you complete it in the normal timeframe (no repeat years or breaks in study).
Non-EU and Channel Island students
Non-EU international and Channel Island students: Full-time fee: £16,000 per year. Tuition fees will remain the same for each year of your course providing you complete it in the normal timeframe (no repeat years or breaks in study).
Additional Information
A Masters qualification typically comprises 180 credits, a PGDip 120 credits, a PGCert 60 credits, and an MFA 300 credits. Tuition fees will remain the same for each year of study provided the course is completed in the normal timeframe (no repeat years or breaks in study).
Eligible alumni receive a 10% discount on their postgraduate tuition fees. Find out more about our Alumni Loyalty Discount.