Paul Proctor
Senior Lecturer
Photography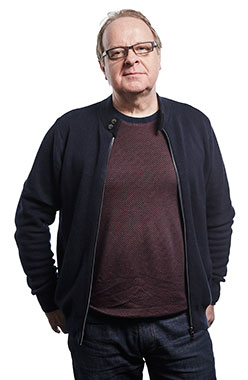 Paul is a photographer and academic with over 30 years experience as an educator in the subject. With many years of academic experience in art and design pedagogy and in art, design and media management and leadership, Paul has developed an extensive track record of undergraduate and postgraduate curriculum development. He has held external examinerships and advisory roles in the UK for over 15 years.

Paul is currently responsible for developing the curriculum for a brand new School of Digital Arts (SODA) at MMU which is due to open its doors to students in 2021. His role in SODA has led to international knowledge exchange and collaboration with HE institutions in both Europe and the USA.

In addition to his MA in Photographic Studies (University of Derby, 1994), Paul also holds postgraduate qualifications in Art and Design in Education (Institute of Education, University of London 2009) and Advanced Teaching and Learning (Oxford Brookes University, 2005). He is also currently studying for a PhD titled, 'Virtually actual; photography performed in a 3D digital space'.
Research
A selection of recent research outputs.
Artefacts
Proctor, P., 2018. 'Event', Manchester School of Art.
Proctor, P., 2016. 'Beyond the Camera, Pingyao International Photography Festival, China.', Pingyao, Shanxi Province, China.
Proctor, P., 2016. 'Untitled Materials', Manchester School of Art.
Non-Peer Reviewed Articles
Proctor, PA., 2015. 'Photographs as Agents of History', Verioa, Greece, ??????????? ??????? (???.- ???. 2015) (59), pp. 21-24.