Paul Proctor
Senior Lecturer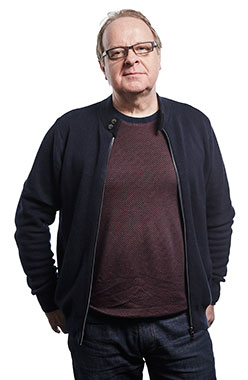 Paul is a Senior Lecturer on the BA (Hons) and MA Photography programmes at Manchester School of Art. He is a Senior Fellow of the Higher Education Academy and brings over 30 years experience as a practitioner and educator in the subject. With many years of academic experience in art, design and media pedagogy, Paul has also developed an extensive track record of undergraduate and postgraduate curriculum development and led on the development of the new curriculum for the School of Digital Arts at Manchester Met.. He has been an External Examiner for many photography programmes across the UK for over 20 years and advises on programme development and approvals for photography and other related subjects.

Paul's photographic practice and research explores the photogram within an algorithmically determined 3D photographic digital space. He is currently studying for a PhD at Manchester Metropolitan University. He has exhibited his work nationally and internationally and delivered academic papers at:

6th International Conference of Photography and Theory, Nicosia, Cyprus 2022
Expanded Visualities Photography and Emerging Technologies.
Paper: Photographic Images as Intuitive Self-sympathy

Illumination: Perspectives on the Way of Life. Birkbeck University, London Centre for Interdisciplinary Research, London, 2020
Paper: Virtually Actual

The Post-Photographic Apparatus International Conference 2019
Lucerne University of Applied Sciences and Arts
Lucerne Switzerland.
Paper: Virtually Actual - The post-photographic apparatus

Times and Movements of the Image International Conference, Caldas da Rainha and Lisbon, Lisbon.
Paper: Virtually Actual; the circuit of movement 2019.

The 8th International Conference on the Image (2017), in Venice, Italy.
Paper: Virtuality, Photography and Abstraction.

Paul is also Curriculum Design and Education Lead for the new School of Digital Arts (SODA) at MMU. His role in SODA has led to international knowledge exchange and collaboration with HE institutions in both Europe and the USA. Paul's recent conference papers include:

'Designing the SODA Curriculum' at What's Going on Here? Decoding Digitality, ELIA Academy International Conference, Stuttgart, Germany, 2019

'Designing a new digital arts curriculum where technology inspires new stories, new experiences and new realities' at Data, Dialogue, Doing. ALT Annual Conference, Edinburgh, 2019

'Developing a Co-Creative Curriculum: challenging preconceived models of learning and teaching' at Learning Connections International Conference, University College Cork, Ireland, 2019.

In addition to his MA in Photographic Studies (University of Derby, 1994), Paul also holds postgraduate Diploma in Art and Design in Education (Institute of Education, University of London 2009) and Advanced Teaching and Learning (Oxford Brookes University, 2005).
Research
Artefacts
Proctor, P., 2018. 'Event', Manchester School of Art.
Proctor, P., 2016. 'Beyond the Camera, Pingyao International Photography Festival, China.', Pingyao, Shanxi Province, China.
Proctor, P., 2016. 'Untitled Materials', Manchester School of Art.
Non-Peer Reviewed Articles
Proctor, PA., 2015. 'Photographs as Agents of History', Verioa, Greece, ??????????? ??????? (???.- ???. 2015) (59), pp. 21-24.